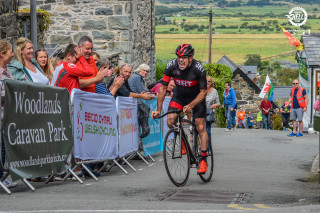 The street that has recently got the world talking – Ffordd Pen Llech – was host to the inaugural Dringfa Ffordd Pen Llech / Harlech Hell Climb this Sunday (August 11th), and it certainly demanded a lot from our competitors.
The historic town of Harlech, situated in Snowdonia National Park, was a buzz of activity this weekend as supporters lined the edges of the climb to deliver a roar of encouragement as the riders tackled the ascent of the Guinness World Records' World's Steepest Street with a gradient of 37.45 per cent. As chalk was on hand before the racing kicked off at 1pm, the street itself was artistically decorated with words of support which acted as an extra motivational element for the riders who were placing themselves in a world of pain as they battled it out for the honours.
Over 60 riders from all over the UK and beyond, with one competitor – Fred Carre – even travelling from Paris, turned out to deliver a showcase of talent. Although short at 330 metres, the savage climb which averages 17 per cent and has a maximum gradient of 37.45 per cent provided an exhilarating day of racing as riders set out on a bid to secure the fastest time.
Through gritted teeth and sheer determination, riders gave it their all and were pushing all their boundaries in order to conquer Ffordd Pen Llech – and they certainly did just that. The standard was very high as records that were already set were blasted and some blisteringly fast times were produced, resulting in a glorious display of 'pain faces' throughout the afternoon. The race could not have been closer with only eight seconds between the top three riders and only 16 seconds between the top 10 riders in the Open Men's Category. It was equally as close in the Open Women's category, with only four seconds between the top three riders.
As the riders' times of the climbs were getting quicker within both the Open Men and Open Women's categories, tensions were continually rising, which made for a brilliant atmosphere throughout the afternoon. However, over an hour into the competition, number 49 Calum Brown stormed his way up the climb in an extremely impressive time of 0:50 and set the standard for the Open Men's category. Although the riders which followed him – such as Dan Evans (2X British Hill Climb Champion) and Andrew Nichols – came very close to his time, no one was able to catch him and as a result, he secured prime podium position.
A very similar scenario occurred within the Open Women's Category, as Lucy Lee – the 30th rider to set off – created a fantastic time of 1:22 and led for a period of the event. However, Rebecca Richardson – one of the last few riders to tackle the brutal climb – produced an absolutely superb time of 1:18 and set the bench mark for the Open Women's category in the final hurdle. She was immediately followed by Jessica Evans (5X Welsh Hill Climb Champion) who produced another very impressive effort, but fell just two seconds short of Richardson's time.
Reflecting on the climb, Brown said: "It's nuts. I walked up it as soon as we drove down here before going to HQ and it was pretty knackering, but once you are on a bike with a bit of momentum, it was okay".
Richardson added: "The event is pretty close to home so I wanted to come and give it a go. I knew competition would be really tough with Jess and Lucy here today and it is the first hill of the hill climb season – it was just really nerve-wracking to come and test your legs and see what you could do".
Top three for the Open Men's Category:
1) Calum Brown (Team B38/ Cycles in Motion) – 0:50
2) Andrew Nichols (Team B38 / Cycles in Motion) – 0:55
3) Dan Evans (Assos Equipe UK) – 0:58
Top Three for the Open Women's Category:
1) Rebecca Richardson (Brother UK Fusion RT) – 1:18
2) Jessica Evans (Assos Equipe UK) – 1:20
3) Lucy Lee (University of Bath Cycling Club) – 1:22