Elynor Backstedt goes close to the World Record during day four of National Championships in the Geraint Thomas National Velodrome of Wales.
Backstedt qualified for the final by coming close to breaking her own national record recently set at the UEC Junior Track European Championships at the Kuipke Gent velodrome in July, before going close to breaking the world record in the final.
A determined Backstedt put the hammer down from the go, catching her rival Ella Barnwell (Liv CC-Halo Cycles) with one lap to go.
Not content with winning Backstedt, passed her opponent and continued to surge forward in an attempt to break the world record.
Younger sister, Zoe Backstedt (Storey Racing) with partner Millie Couzens (PH-MAS-Paul Milnes) rode to victory in the Girls Madison Trophy – U16 female madison.
In a bid to claim another national jersey, Backstedt had earlier decided to withdraw from the 2000m pursuit championship to concentrate on the Madison.
Couzens and Backstedt made for a formidable team, the pair attacking the field from the start, winning four of the eight sprints and putting valuable points between them and the rest of the field.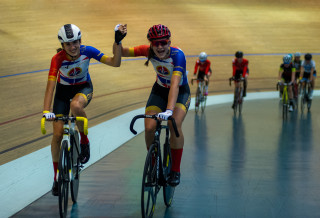 They eventually posted a score of 73 points, 13 ahead of Madelaine Leech (RFDA) and Morven Yeoman (East Kilbride RD) and 25 ahead of Grace Lister (Wolverhampton Wheelers) and Flora Perkins (VC Londres).
Edward Lowe (Black Line) raced to victory in The Jack Sibbet Trophy - the U16 male 500m time-trial - smashing the National record in the process with a time of 32.734.
Second place went to Harry Ledingham-Horn (Lyme RC) in a time of 32.924, less than 2 hundredths of a second off gold. Tom Sharples (Welwyn Wheelers CC) finished third in 33.307.
Jack Brough and Joshua Giddings (MI Racing Academy) won gold in a closely fought U16 male madison race, finishing on 29 points.
The MI Racing Academy duo had to fight hard to win the final sprint and take the maximum 10 points as they headed into the closing laps on 19 points, with eventual silver-medallists Innes Harvey and Max Poole on 18 points close behind.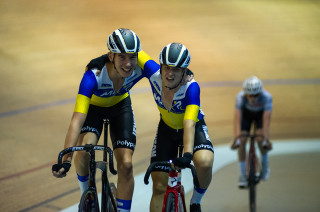 Josh Charlton and Keiran Riley finished in third on equal points - 17 - with Aidan Lawrence and Finlay Pickering, taking their placing by finishing second in the final sprint.
Jade Hopkins (DIMASCO) upgraded a second place finish in the sprint earlier in the week to win the U16 female 500m time-trial - the Girls TT Trophy.
Recording a time of 36.863, not far off the national record, she beat second place Anna Wadsworth (Beeline Bicycles RT) by seven hundredths of a second.
The bronze medal place went to Elodie Gage (Wolverhampton Wheelers).
Results - Day 4
Gallery