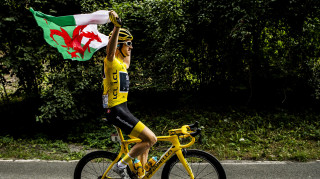 The Tour de France returns and were highlighting the opportunities available for you to come and get involved with cycling not just this month but hopefully every month to come. We believe cycling is for everyone here in Wales and believe there are opportunities for everyone to come and take to a bike.
Throughout the week and the year we have dedicated volunteers across Wales who are here to help you get the most out of cycling.
Check the links below to find out more on each of the following:
Holiday cycling for younger riders - Our HSBC UK Go-Ride Coaches are running a number of sessions for young people over the Summer Holidays. Get involved here

Breeze - It doesn't matter if you're keeping fit, young at heart, wise beyond your years, or baffled by gears. Every woman is welcome on an HSBC UK Breeze ride.You'll discover new places to ride. Gain confidence as a group. Make new friends. Do things you never knew you could. And have a lot of fun. That's the power of riding together.We know it's easier said than done, so our Breeze Champions will organise everything, lead the group, and make sure everyone stays safe. All you have to do is sign up.
Join a Club - Joining a club is a great way to get the most out of your cycling. Whether you are a seasoned racer or a complete beginner, there is nothing better than riding with like-minded cyclists to develop your skills and challenge yourself find your local club here. #PromoteClubs
Clubs for young riders - Go-Ride Clubs are open and friendly cycling groups, providing coaching sessions for young people in traffic-free spaces. The perfect place for your child to get into cycling and provide the support for talented young riders to realise their potential find your local club here
Ride Social - There's no membership fee, no club rules and we're all passionate about getting the miles in. Use the ride finder to explore existing rides nearby, or reach out to a friendly local group and share the miles together. If you want to organise a ride, simply join for free to get started.