Join us on Sunday 12th May as the hugely popular HSBC UK Let's Ride Cardiff returns for 2019. The festivities will begin from 11am – 3pm.
For one day, you and the family can enjoy the streets and sights of Cardiff from the comfort of your saddles. It's a Car Free Day and with the closed roads it's a free cycling festival for all the family.
Welsh Cycling CEO Anne Adams-King said: "We are looking forward to Cardiff being the first HSBC UK Let's Ride event of 2019 and we hope to see as many people out on their bikes as possible.
"This event is one for all the family, there will be lots going on throughout the day, so book your place and come down to Cardiff to enjoy what promises to be an extravaganza of cycling."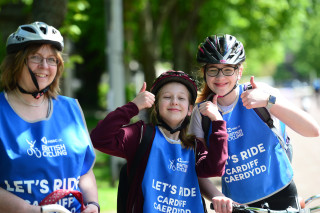 There will be lots of exciting activities to keep you entertained on the day - from fun activities and challenges for the whole family to music, local street food and live stunt shows. There will also be a few surprises on the day.
This event is catered for all levels of cyclists, you don't have to do the full distance – just as much or as little as you want. You don't need to be an experienced cyclist. There will be no cars on the road, so you can wobble, zig-zag and stop as much as you like.
It's the perfect excuse to get out for a ride, so book now to enjoy what will be exciting event for all the family.
You can book your place here – https://www.letsride.co.uk/events/cardiff