In May 2017, North Wales Cycling Development Officer Ann Williams & HSBC UK Go Ride Coach Tim Matthews launched the Cycling for Schools project in 2 schools on the Llyn Peninsula, aiming to introduce cycling into schools and support in providing a strong foundation to cycling both as a sport and a life skill.
Working in Partnerships is paramount to success.
Working in partnership with the Gwynedd Sports Development team, Ysgol Foel Gron and Ysgol Crud y Werin, Ann & Tim delivered an initial Development Days, covering cycling techniques, coaching skills, types of cycling, equipment and safety considerations, while also supporting the teaching staff in the planning delivery and evaluation of sessions.
Following this, and working alongside the school staff, Tim supported the delivery of a block of sessions at Ysgol Foel Gron, Mynytho and a couple of sessions at Ysgol Crud y Werin, which led to the formation of after school clubs in both schools led by the school staff.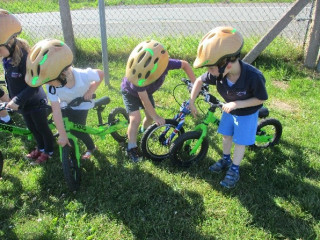 Project has gone from Strength to Strength
This initial success has seen the project go from strength to strength, the schools held and an Inter School Competition at Aberdaron in 2017, and in March 2018 Ysgol Foel Gron with funding from Gwynedd Council purchased 6 Frog bikes, 6 helmets, and tools from Evolution bikes Bangor for children to use during sessions at school, aiming to inspire the next generation of cyclists.
Rosie Decker (Bike Coach and School Governor) explained the impact the project has had;
''It is a joy to coach and see the development of skill, ability and confidence these children now have on a bike. There are now more children riding their bikes and scooters to school, their siblings are influenced too and you now see them getting out on their bikes and scooters. I can't go into school without having children tell me where they've been and what they have done on their bikes over the weekend.'
Funding secured further success
The momentum from the Cycling for Schools project didn't stop there, the success of the school club and the passion for developing and inspiring young cyclists from Rosie, the Llanengan Community Council have secured funding to develop an area of land outside the school into a track for the school and community to use.
Rosie said "Their enthusiasm and enjoyment of cycling for fun and fitness is infectious and I'm delighted that the community are supporting the children's healthy living in providing a bike/pump track in the village".'
We are excited to see how the project continues to develop and inspire the next generation of cyclists! Well Done to all involved.
Contact Welsh Cycling
If you want to know more about cycling for schools and the services Welsh Cycling can bring to your school, drop us a line at info@welshcycling.co.uk and we'll make contact with you.