The Mountains are calling Lowri Morgan to push her limits in July 2019 as Wales360 is set to become an epic journey for mountain bikers in Wales.
Lowri Morgan is a Welsh television presenter and marathon runner. She has presented S4C's coverage of the World Rally Championship and the magazine show Uned 5 and is one of six people to have completed the Amazon Ultra Marathon and also finished the 350-mile 6633 Ultra in the Arctic.
We caught up with Lowri to talk Wales360, the challenging 550 kilometres route around Wales and the climb of over 12000 metre along the way.
Lowri, Why is Wales a great destination for mountain biking?
Wales has plenty to offer to cyclists - from amazing scenery and challenging parkours to friendly locals and excellent culinary delicacies. We now have somewhere between 500km - 600km of purpose built spectacular way marked singletrack throughout the length of the country. Adventure seekers can follow trails that escape into the wilderness and take in some epic scenery. One minute you can be biking along the coastal route in the morning and by the afternoon you can be up in the mountains tackling the challenging and inspiring trails. There are a host of mountain biking facilities here, and as a mother to a young toddler, it's wonderful to see something for the whole family.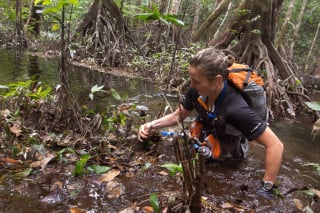 What made you want to get involved with the event?
When I was asked if I'd like to be involved with Wales360 I jumped at the chance. Having raced in numerous multi-stage events around the world, I know that the atmosphere will be electric, the support will be amazing, the scenery will be beautiful, the camaraderie will be awesome and it will be a true test of yourself. If you like adventure, then Wales 360 ticks all the boxes.
Why will Wales360 be good for Cycling in Wales?
Wales is already regarded as something of a mecca for mountain bikers due to its impressive trails and scenery, and I've no doubt that Wales360 - the first of its kind, will leave a legacy of active cyclists not only in Wales, but across the nation. I'm sure that we'll see the Mountain Bike competitions and series developing and growing even more. When I ran from North to South Wales, I was humbled by the magnificent and awe-inspiring scenery I passed and I'm sure that the Wales 360 will certainly inspire others - from the professionals to the amateur to the newbie, to get involved to try the discipline and showcase the beauty that Wales has to offer as a mountain bike destination.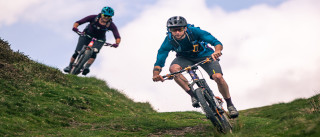 Where does Wales360 stand in comparison to other endurance challenges you have faced?
Despite having competed in Ironman and Adventure races, most of my endurance events have been footraces (across deserts, jungles and arctic) covering distances of over 350 miles non-stop. I also ran from North Wales to South Wales covering some of the Wales 360 route and climbing 10,000 metres along the country's highest peaks during that 60-hour run, so it'll be nice to revisit some of those locations again on a bike. As an Ultra endurance athlete, I have had to train my body and mind to withstand the challenges of multi-stage events and I hope that'll put me in good stead for Wales360. Having said that, I have not raced on a bike for a few years so this will be a wonderful and challenging experience for me. But as an adventurer, that is what excites me.
In three words how would you describe this crazy event?
EXCITING, EMPOWERING, EPIC
Thanks Lowri, good to chat.
To Find out more about this exciting challenge and to take that enormous leap of faith to challenge your new epic, Visit here. If you think you could take on the role of a Volunteer at this exciting and new venture for Wales, Click this link.