British Cycling and HSBC UK's women's only initiative – HSBC UK Breeze – is celebrating its seventh birthday as well as having filled 200,000 places on its free led rides.
The UK-wide programme, which offers women of all abilities the chance to get back into cycling via fun, free, female-led bike rides has proved to be a huge success in its seven years, making cycling more welcoming to women.
To mark the milestone, a group of local ride leaders – or Breeze Champions - from Northamptonshire will take part in a procession ride in the historic market town of Daventry, the finishing point of the second stage of the 2018 OVO Energy Women's Tour.
British Cycling chief executive, Julie Harrington, said: "I'd like to say a massive thank you to everyone who's been involved with the HSBC UK Breeze journey so far, from Sport England who funded the initiative back in 2011, to HSBC UK and of course our Breeze Champions who are blazing the trail today.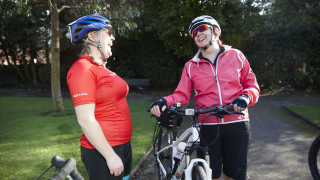 "We set ourselves an ambitious target of influencing one million women to cycle by 2020, and to enjoy the benefits that our sport can offer. HSBC UK Breeze is central to this and is the perfect place to start – whether you're looking to build confidence, improve your fitness or meet new people.
"The OVO Energy Women's Tour is a celebration of incredible female talent, and I can't think of a better place to celebrate this milestone."
More than 2,000 trained volunteer Breeze Champions organise and lead rides across the UK.
Breeze Champions like Claire Maw and Hannah Reed from Rushden, who were both trained as ride leaders by British Cycling in October 2017, with the aim of encouraging local women to take up cycling for fun and fitness. Since then, the pair have contributed to 30 places being filled on rides across Northamptonshire.
In the last year over 51,000 places were filled on women-only HSBC UK Breeze rides across the country. This is an 8% increase on the previous year and one of the most successful years since the start of the programme.
#Bree7e
June marks the seventh anniversary of HSBC UK Breeze, which has so far delivered over 40,000 women-only rides across the country. Help celebrate our seventh birthday by joining us on a ride near you, and visit www.letsride.co.uk