June 7th 2018
The OVO Energy Women's Tour will cover new ground in 2018, as the race visits Wales for the first time in its history.
Dolgellau will host the start of Stage Five on Sunday 17th June, a potentially decisive day in the battle for the OVO Energy Green Jersey, one that finishes in Colwyn Bay 122 kilometres later.
Welsh Cycling are proud to be involved from the start; where 18 HSBC UK Breeze Champions from Coed Y Brenin North Wales and Powys will ride 3km ahead of competitors as the tour heads out from Dolgellau towards Barmouth.
The HSBC UK Breeze programme is aimed at helping women feel confident and comfortable about going on a ride; and has been a great success all across Wales thanks to the women who dedicate their own time to organising flexible, safe and fun opportunities to ride a bike.
Gaynor Davis, Women and Girls Development Officer at Welsh Cycling said: "We are very proud to be leading out the Women's Ovo Tour.
"Dolgellau is my local town and I am keen to promote cycling in this area for local women.
"We will be in Dolgellau before the Tour heads out to talk to any women who want to know more about the programme and how to get involved".
Welsh Cycling will also be present at the finish line at Colwyn Bay working in collaboration with Diability Sport Wales, Conwy Council, local cycling clubs, Breeze champions and club volunteers.
A range of cycling activities will be on offer from 11:30pm, including an adapted cycling session, Go Race Handcycling, watt bike challenge and a celebratory ride for females of all abilities along the finishing straight of the tour itself.
There will also be a Breeze ride and female club rides running on the Sunday,
Ann Williams, North Wales Development officer at Welsh Cycling said: "There is such fantastic work done by volunteers in the region of getting people of all backgrounds and abilities on bikes.
"Having the finish of the OVO Energy Women's Tour at Colwyn Bay will enable us to showcase a small segment of the good work that goes on in the region.
"It's an extremely exciting time for the time and we encourage everyone to come down and join the activities whilst waiting for the competitors to come through the finish".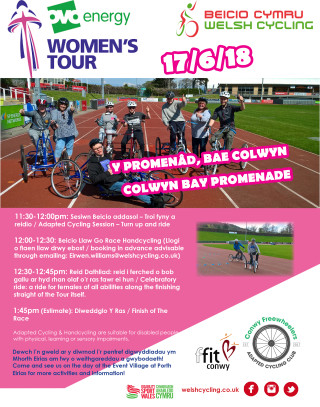 Full details:
11:30-12:00pm: Adapted Cycling Session – Turn up and ride
12:00-12:30: Go Race booking in advance advisable through emailing: Eirwen.williams@welshcycling.co.uk
12:30-12:45pm: Celebratory ride: a ride for females of all abilities along the finishing straight of the Tour itself.
1:45pm (Estimate): Finish of The Race
Adapted Cycling & Handcycling are suitable for disabled people with physical, learning or sensory impairment