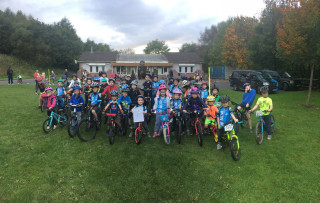 The Bike Doctor has become the latest club to achieve the Club Mark award, which recognises the clubs hard work in establishing and promoting a youth focussed cycling club, which is open to all riders.
The Bike Doctor joined the HSBC UK Go-Ride programme last year delivering weekly sessions over the summer from the clubs ridding base at Barry Sidings near Pontypridd.
Achieving club mark acreditation has been a key part of the clubs plans over the last few years with the support of Welsh Cycling's development team. The development plan which was put in place, has seen the club grow to a position where they now are able to offer a number of opportunities for people to take part in the sport and join the club.
Dan Coast, development officer at Welsh Cycling has been specifically working with the club and has played a key part in their growth.
He added: "Bike Doctor laid out some very ambitious plans for the growth of the club when we started to set up the clubs development plan 2 years ago.
"After successfully securing funding from the local authority the club worked hard to train up the coaches, in order to set up the HSBC UK Go-Ride element to the club".
Two years on and with the end of the seasons summer sessions approaching, the club have seen over 170 unique participants take part in the evenings sessions this year, with 50 riders taking part in the skills focussed sessions.
The club who are based at the Barry Sidings Café have also made use of their base to host a number of initiatives. Their club open day incorporated with the Welsh Cycling Dirt Crit Series, which gave them the opportunity to show the wider cycling community what the club had to offer.
The club are now working to complete their Disability Sport Wales insport ribbon award in tandem with the Welsh Cycling Club mark award. They are also continuing to develop the site, which is rapidly becoming the place to ride in Rhondda Cynon Taff.