The 2017 Welsh Cycling Annual General Meeting offered an opportunity to discuss how cycling in Wales could progress in the future.
Affiliated clubs from all across Wales were in attendance to have their say on Tuesday 19 September, from the central base at Sport Wales in Cardiff, to hubs in both West and North Wales via video conference.
Delegates from 13 clubs attended either as delegates or observers with members of Welsh Cycling staff and it's board in each region.
Chief Executive Officer, Anne Adams-King presented an over-view to attendees on the growth of Welsh Cycling since last year which has seen a 19% increase in club and membership in Wales and exciting future plans for the organisation and cycling in Wales.
With the appointment of a new participation officer Sam Richards – the third officer within the wider participation team, the organisation has high ambitions to get more and people on bikes across Wales.
In addition, following the final stage of Tour of Britain in Cardiff this year, the possibility of continuing to host large scale cycling events such as Giro'd'italia, would help put Wales on the map as a major cycling grand tour event destination.
Other plans explored included increasing cycling facilities across the country, the re-opening of the Carmarthen Velodrome this autumn, plans for the Commonwealth Games next April and the continued work with our youth and junior programmes with a focus on our u23's to support their training and transition to hopefully becoming elite riders.
Clubs were then given the opportunity to give their feedback on where they felt they needed support going forward. With the new appointment of Maxine Rhodes as volunteer coordinator, discussion was also welcomed around how we can further care for and develop their roles.
Chief Executive Officer, Anne Adams-King said "The AGM is always a great chance for all clubs to come together share their experiences and views and and hear about our plans.
"Without the help of our clubs and volunteers, we wouldn't have the day to day coaching in clubs or be able to host events across Wales and we want to ensure that going forward we are supporting them as much as we can.
"I'd like to thank all of our clubs and members who attended and we hope that we can work together to ensure an even better year for cycling in Wales".
Welsh Cycling was also presented with their immediate level of equality standard and level three NSPCC standards for safeguarding children in sport by Sport Wales.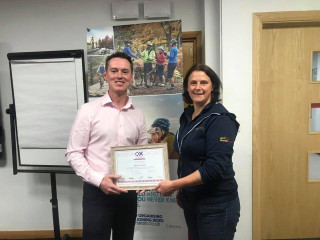 With a vacancy for a member on the Welsh Cycling board, Chairman Nick Smith welcomes club members who may be interested to get in touch.
If you are interested in sitting as an observer during a board meeting to see whether the role may be for you, please contact Anne Adams-King on Anne.Adams-King@welshcycling.co.uk