A new women's only mountain bike hub has been established at Coed Y Brenin, Gwynedd, in conjunction with Breeze, Beics Brenin, The Outdoor Partnership and Natural Resources Wales.
Eight local women have completed the Level 1 mountain bike leaders course and qualified as Breeze Champions, enabling them to offer women-only mountain bike rides. The rides can take place on pre-accredited blue routes at Coed- Y-Brenin Forest Park as part of the expanding Breeze programme in Wales. The first Level 1 Breeze mountain bike ride took place in June, where nine riders explored the Minotaur trail.
Gaynor Davis, women and girls cycling development officer for Welsh Cycling said: "Welsh Cycling is really excited about the new women's mountain bike hub, and I'm delighted to be one of the mountain bike leaders. Mountain biking is key to North Wales, due to the mountainous terrain, so developing the hub was key to getting beginners on the trails with the support of ride leader."
"We have worked closely with our partners, Beics Brenin and The Outdoor Partnership over the last six months to develop the project. The funding from The Outdoor Partnership has been fundamental in training the ride leaders, so to see women now coming along and riding the trails is fantastic."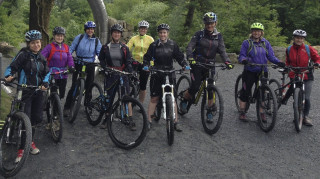 Many of the ride leaders are members of local cycling clubs, and are keen to inspire more women to cycle. Gaynor Davis, along with Elize Freeman, Holly Whitely and Elin Roberts are members of Dreigiau Coed Y Brenin Mountain Bike Club based at Coed Y Brenin and Tracey Dawson and Tina Braithwaite are members of Clwb Beicio Ardudwy in nearby Harlech. Nia Jeffreys and Cerys Symonds who are keen cyclists, both live local to Coed Y Brenin.
Monthly rides commenced on Friday 1 July, with rides continuing on the first Friday of each month. Additional regular weekend rides will be added to the programme over the summer months.
Partner support
Beics Brenin at Coed Y Brenin, is the first dedicated trail centre to be awarded with the British Cycling Level 1 Mountain Bike Accreditation. Traditionally the award has only been suitable for outdoor education centres but with a few modifications the centre passed the accreditation in June.
Steve Beech of Beics Brenin, said: "It has been a pleasure to work with Gaynor from Welsh Cycling on this hub development and we are delighted to have women-only rides running from the centre. Riding the trails here is not only for experienced riders, the centre has so much more to offer with The Minotaur and Yr Afon routes, which are suitable for all abilities.
"We are hoping we can add to the accredited routes later this year, with part of the legendary Sarn Helen route and a longer route heading off around Moel Hafod Owen, which offers spectacular views of Snowdonia."
Coed y Brenin is managed by Natural Resources Wales (NRW) – it's the UK's first mountain bike trail centre. This year marks 20 years since the first waymarked mountain biking trails were built in Coed y Brenin. Grace Sanderson, visitor centre assistant for Natural Resources Wales at Coed y Brenin, said:
"We'd like to congratulate all the women who have qualified as mountain bike ride leaders and Breeze Champions. This is great news for locals and visitors alike, a brilliant opportunity to introduce more women to cycling, to help them improve biking skills and enjoy a social ride with other women cyclists with all the health benefits that this can bring. This initiative is great news for the local economy as well, with the potential of attracting groups of women to stay in the area.
"You can enjoy spectacular scenery from these trails, and biking is a great way to explore the forest. The centre offers eight waymarked routes, with trails for every age and ability, along with a skills area to practice in. It's the ideal place to learn and progress, as well as socialise!"
The Outdoor Partnership, based at Plas Y Brenin, has been a key supporter of Breeze since it's launch in Wales. As well as supporting course costs for the initial cohort of Level 1 mountain bike ride leaders, Breeze Champions in North Wales can get subsidised first aid courses with The Outdoor Partnership.
Marian Lloyd-Roberts from The Outdoor Partnership, said: "When we were approached by Gaynor from Welsh Cycling, it was clear to see that there was a real passion for developing the women's mountain bike hub and we were extremely delighted to be included as a partner. This will give so many opportunities for women to get involved in social cycling, whilst enjoying the natural beauty of the area."
Get involved
The women's mountain bike hub will continue to grow and develop in Coed Y Brenin, contributing to women's cycling in Wales. Click here to find out more about the Breeze mountain bike rides at Coed y Brenin.