Round three of the five race series, which aims to find Britain's best cross-country mountain biker, promises to define the overall standings.
With no significant overseas riders on the start line, domestic rivalries will be at the forefront and series points take on a new significance.
Grant Ferguson leads the men's standings following a dominant performance at round two. The British champion travels to Wales following a breakthrough result at the German national series, where he finished fifth between Julien Absalon and Nino Schurter.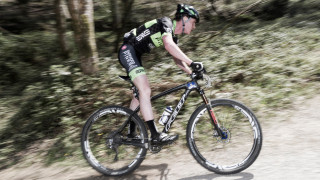 David Fletcher is Ferguson's nearest challenger – having finished second at round one – but dropped places at round two and is 11 points down. Finishing in ninth in Newnham, he was bettered by international competition, but more significantly by Phil Pearce, Seb Batchelor and Iain Paton.
This double-hit of points lost from those ahead and behind in the series makes round three critical for Fletcher's title challenge.
Fortunately, his pursuers all suffered against the international field and muddy conditions at Sherwood Pines, with Phil Pearce 21 points adrift of Fletcher in fourth place. Third-placed Milan Vader does not travel.
Annie Last heads a women's points table less disrupted by visiting competition. The British champion showed her most positive performance yet at round two, following a two year return from injury.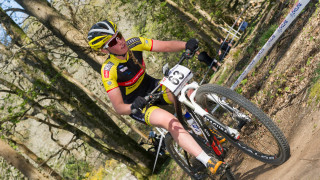 Second in the standings is Alice Barnes – just five points down on Last thanks to finishing second and fourth in the opening events.
However, the time gap between Last and Barnes at round two was nearly six minutes – illustrating the difference between an athlete with Olympic experience and the second-year under-23.
Defending champion Beth Crumpton has struggled to find the form that saw her take the title last year, but could yet turn her season around, especially when taking into account that riders only take their best four results from five races to decide the final standings.
Joining the start – but unlikely to impact the series are South African champion Mariske Strauss, cyclo-cross specialist Nikki Harris and marathon specialist Sally Bigham.
Event information
The third round of the British Cycling MTB Cross-Country Series takes place on May 16-17 at Fforest Fields.
Elite races take place on Sunday, with the women's competition at 10:45am and the men's race at 1:00pm. Races last approximately 90 minutes, with riders taking a mass start before negotiating a series of 15-minute laps. Courses are designed to be spectator friendly and events are free to watch.
There is also age and ability-based racing across both days – for full details or to enter a future round of the series, see the event homepage. Start lists can be found here.
Want to start mountain biking? Check out our guide to getting involved.