| | | | | | | | |
| --- | --- | --- | --- | --- | --- | --- | --- |
| | Follow britishcycling.org.uk on | | | | | | |

Euro-Stars Light Up Sherwood
2011 British Mountain Bike Series Round 1
27 March 2011, Sherwood Pines, Nottinghamshire
Full Results | Event Details
VIDEO - ELITE MEN'S RACE
FLICKR SLIDESHOW

VIDEO
REPORT

The opening round of the British Mountain Bike Series (Cross-Country) had a distinctly European feel to it, with the event's UCI Class one ranking drawing in early season points hunters from across the continent. With the venue, Sherwood Pines, in the East Midlands in prime shape after a couple of dry weeks, the scene was set for an intriguing opening act in the 2011 domestic season.
First off, in the cool of the early morning, were the Elite women and it was national champion Annie Last who stormed into an early lead. She was soon joined at the front by the classy Lene Byberg (Specialized Factory Racing), the Norwegina champion and one of the world's leading riders in recent seasons. 100 ME's Lily Matthews stayed with this illustrious duo for a time, but eventually dropped back and had to settle for third.
Last stayed with Byberg until the last lap, when the more experienced rider managed to shake off her British rival and go on to claim the win. Last came in only a few seconds down after a searching examination of her early season form.
Annie Last and Lily Matthews, second and third
The Elite Men's race saw an electric start by a huge field of some 60 riders. The Swedish champion Emil Lindgren (Giant Rabobank) was clearly determined to strike early and he was soon out on his own, with team-mate Marco Minnaard also gapping the rest of the field along with Endura's Oli Beckingsale.
These three came through after one lap separated by small gaps. Behind them Dave Fletcher and Jody Crawforth were together, locked in a battle for fourth. And that's pretty much how it stayed for most of the race, with Lindgren and Minnaard successfully staying clear of the remainder of the field and claiming the top two spots with conviction.
Beckingsale chased them hard for most of the race, but in the end seemed more in danger of being caught as Fletcher finally dropped Crawforth on the penultimate lap and seemed to be closing on the Endura rider. However, Fletcher's efforts had taken their toll and Beckingsale was able to claim a comfortable third on his own, with Fletcher fourth and Crawforth fifth.
Emil Lindgren and Oli Beckingsale hopping in the woods!
Elite Podium: from the left, Fletcher, Minnaard, Lindgren, Beckingsale & Crawforth
National Champion Liam Killeen was still feeling the effects of a recent cold and sensibly rode his own race, coming through in the later stages to claim a top ten finish.
To find out what happened in the other categories, check out our round-up of the rest of the day's racing!
GO-RIDE RACING
Whilst huge fields contested the usual range of age category races, from Youth upwards, Sherwood Pines also saw the debut of Go-Ride Racing at the British Mountain Bike Series, provided by British Cycing and aimed especially at inexperienced young riders. With a mixture of coaching, a single lap time trial and a short age category Cross-Country race, this proved a popular draw, with dozens of young riders lining up for an hour of action on a specially prepared course. Go-Ride racing will also be available for under-16s at all the remaining rounds of the series.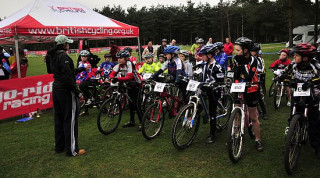 British Cycling's Go-Ride Racing initiative brought racing to Sherwood
Go-Ride Racing photo set on Flickr

---
British Cycling would like to thank the organising team, officials and everyone else who helped promote this event. Our sport could not exist without the hundreds of people, many of them unpaid volunteers, who put in many hours of hard work running events, activities and clubs.