Your local club 10-mile time trial is an ideal way to get a quality training session in and to dip your toe into racing. It'll provide you with an extended interval at or above your threshold with the added motivation of wearing a race number. It also provides a great way to measure your progress and to develop your ability to pace extended hard efforts.
Time trials are definitely not just suitable for experienced riders. Club mid-week evening 10-mile time trials are an ideal way for novices to get involved with a club, try their hand at racing without the worry of being in a bunch, and to gauge their fitness level.
When and where?
Many cycling clubs during the summer hold a mid-week evening 10-mile time trial that is open to anyone, and you can enter on the evening. Finding your local club is easy with the British Cycling club finder directory. Contact them or look on their site to find out when and where their events take place.
What to expect?
Generally, the time given will either be for the first rider off or for the time that signing on begins. If it's the former, for your first time at least, you should aim to get to the race HQ about an hour before the advertised time. This should give you plenty of time to find where you need to be and to get yourself ready.
First of all you will need to sign on, pay the entry fee, find out your start time and get your race number. Get someone to pin your number on for you, low down on the middle of your back.
If the race is relatively nearby, riding to the event can be an ideal warm-up and riding home the perfect cool-down. However, if you have driven, you will need to warm-up. Some riders will use a turbo trainer but you are fine to warm-up on the road as long as you do not obstruct the course or make any dangerous U-turns. Aim to warm-up for about 20 minutes, the British Cycling warm-up is ideal. Time your warm-up to finish 5-10 minutes before your start time.
Ride to the start, which is often not where you signed on, and wait to be called to the start line. Riders are usually set-off at minute intervals. The starter may hold your bike on the line while you clip in the pedals, stay relaxed, have your foot positioned ready to accelerate and make sure you are in a suitable gear for setting off. You will get a countdown and, on 'go', usually a welcome little push from the holder.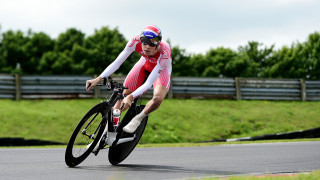 Enjoy the ride and do not worry if faster riders pass you. If you catch up with riders ahead, do not sit behind them, overtake safely, but as quickly as possible.
Ride through the finish and, when safe, ride back to where you signed on. Do not return to the finish and try to talk to the time-keepers as they will be busy keeping track of other riders. Return your number and sometimes results will be announced on the night, but will often be published on the club website later in the week.
Pacing your ride
Almost all riders, when they ride their first 10-mile time trial, set off far too hard. Once you have made your starting effort, settle into a rhythm and try to ride consistently. If you have been following the British Cycling Training Plans, the effort level should feel about equivalent to your 20-minute Threshold Test, with similar heart rate or power values. Once you know you are on the final mile, you can start to speed up if you have anything left and, when you can see the finish, use any remaining energy. It will probably take you a few goes to get it right, so don't worry if you run out of energy on your first time.
Do I need a special bike?
No. There will probably be riders on full time-trial bikes, but there will also be riders on regular road bikes. You are only really competing against the clock and yourself, so do not feel like you need the full aero kit. Make sure your bike is well maintained, your position is correct, and remove any unnecessary weight such as mudguards or an extra bottle cage.
Can I modify my road bike to go faster?
The most common modification is to add some clip-on aerobars to your road bike, but this can actually result in you going slower. The geometry of a road bike frame means that simply clipping on aerobars, can result in a position that is overly stretched, with a very closed hip angle. This will result in lower power production which can easily cancel out any aero gains.
You may find you are able to get a good position by moving the saddle forwards and fitting a shorter stem. However, it may be necessary to fit a specially designed seat-post, which will effectively steepen the seat tube angle to bring it more in line with typical time trial bike geometry. A more expensive upgrade is deeper section aerodynamic wheels. However, in gusty winds, they can be a bit difficult to handle, so don't assume that these wheels will always be better.
Buying a time trial bike
If you start to take part in time trials regularly, you might decide to buy a dedicated time trial bike. A correctly fitted time trial bike will improve your aerodynamic position and having an integrated cockpit that will allow you to shift gears while staying down on your aero extensions. Even more so with a road bike, correct positioning is essential. Rëtul have provided some excellent DIY time trial and triathlon bike fitting tips but, if possible, we would strongly advise a professional fit.
Any other go-faster tips?
Make sure that your clothing is close fitting and not creating unnecessary drag. Anything that is getting caught in the wind, is costing you speed. You don't have to go for a skin-suit but your jersey and shorts should definitely be snug. If you are riding a road bike, make sure you ride on the drops or in a flat forearm position on the hoods. Keep low and avoid unnecessary movement of your upper body.
Aero helmets offers reasonable time returns for pounds spent, but remember if you choose a helmet with a long tail, you have to keep your head up and still or the tail will stick up into the air and create drag. Aerodynamic shoe covers are another relatively cheap marginal gain but position, pacing and fitness are the biggest three contributors to time trialling speed.
Monitoring progress
One of the biggest benefits of riding time trials through the summer is, if you regularly ride the same course, you can monitor how your fitness is progressing. Obviously with variable weather conditions, just comparing your times is not valid but, by looking at heart rate, power output and your ranking compared to other regular riders, you will get a good idea if you are moving in the right direction.