For fitness, pedalling technique, group riding skills and genuine thrills, riding the track through the autumn winter is hard to beat; it's definitely more fun than pounding away on your turbo in the garage! With six indoor velodromes in the UK now, you're unlikely to be far from one and, if you're a track novice, they all offer hire bikes and progressive instruction to get you up on the boards and riding.
Getting started
Most tracks offer public taster sessions where you can usually hire a bike and, with instruction from a coach, take your first few laps around the track. To progress you then have to work through an accreditation system. On passing this you'll be qualified to take part in more advanced structured training sessions and to race.

With the introduction of a UK wide accreditation scheme for indoor velodromes, each venue will be providing data of accredited riders on existing customer databases to British Cycling membership services. Therefore if you are a current British Cycling member, and have a current indoor track accreditation then you will get an endorsement on your British Cycling membership card (UKIVA).

If you are accredited at the National Cycling Centre in Manchester, Sir Chris Hoy Velodrome Glasgow, Lee Valley VeloPark London, Derby Arena or the Wales National Velodrome Newport, and you have a "UKIVA" endorsement on your current British Cycling membership card, you can apply for Probationary Accreditation at other main UK indoor velodromes.

The exact accreditation process will differ from venue to venue but the end result of making you a safe and competent rider will be the same.

Once you have gained your accreditation, you will be ready to progress to SQT (Structured Quality Training) sessions. For more information on what to expect at SQT's, check out our Taking Track Further article.
Skills and techniques
As you work through your accreditation, onto SQT's and hopefully racing track league, you'll constantly be developing your track riding skills, techniques and tactical awareness. The most important skills though are the ones you learned during your first taster session; to always look and the listen to the coach.

Off the track, work on your group riding skills to become more comfortable riding in close proximity to others. Learning to ride rollers is also really worthwhile for balance and developing a smooth pedalling technique.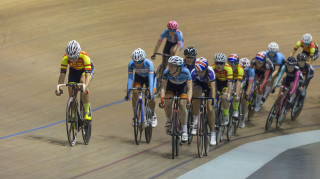 Fitness for the track
If you've ridden sportives though the summer, you'll be fit enough to start riding the track. However, if you want to sharpen up your track specific fitness, either for SQT's or track league, and have a decent base, take a look at our 8-Week Track Cycling Training Plan.

With repeated sprint fitness and leg-speed crucial for the track, you might want to try the following sessions on your indoor trainer, preferably rollers:

20/40
One Minute Intervals
Pyramid Intervals Two
Spin-Out Session
Leg Speed

Strength work is also important for the track fitness. Take a look at our Strength Exercises for Cyclists and Advanced Strength Exercises for Cyclists videos for advice and technique pointers.
Fuelling for the track
With the high intensity nature of track riding, you want to ensure that you allow 2-3 hours between your last proper meal and getting on the track. If you feel hungry, a simple snack such as a banana or an energy bar can usually be tolerated nearer to the session.

For an hour long taster session, you shouldn't need any additional fuel but it's important that you keep well hydrated during the session.

For SQT's and track league, which will typically last 2 hours, hydration is also paramount but you might also want to use a gel midway through the session.