---
The first weekend of March saw British Cycling's Go-Ride Conferences start in Solihull on Saturday, before moving on to Bridgwater in the South West on Sunday.
In all, over 115 club volunteers attended the first weekend's activity which proved popular as the focus of 'Gearing up for the Games' provided clubs with the opportunity to discuss their options for the increased enthusiasm created by the Olympics.
Four more dates are planned for this month, and although almost a further 250 volunteers are already signed up for events in Farnborough, Cheshunt, York and Manchester, places are still available for interested volunteers. Details of which can be found here.
Feeback, both on the day and reflective, has been very positive with sentiments such as:
"Just wanted to say how much everyone enjoyed the conference on Saturday. Everyone one who went felt that they gained something from it. Great stuff!"

"The young volunteers had a great time and came back full of enthusiasm, already sending emails looking to get involved. As a club we will have make sure we get more young volunteers in the future."
Andrew Chaston, British Cycling's National Development Manager for Clubs and Volunteers, opened both events and was delighted with the feedback received.
He said: "The Go-Ride Conferences are a major undertaking for the Go-Ride team but thankfully everything went to plan and we are delighted to have received such a positive response from the delegates.
"We really value this opportunity to thank our club volunteers for all their efforts and welcome the opportunity to pass on important information. The atmosphere throughout the weekend amongst delegates at both Solihull and Bridgwater was incredibly positive and the feedback we have so far received reflects this.
"A key focus of this year's Go-Ride Conferences is to help our clubs prepare for the 'Olympic effect' through our Go-Ride Games initiative. In addition to enthusiasm from delegates to be involved, we have already received sign up for forms from most of the clubs who attended which really is encouraging not only for the remainder of the Conferences, but also for our efforts to ensure the Olympics leave a legacy we can be proud of.
"It really is an exciting time to be involved in cycling, and the whole team is looking forward to the final four conferences coming up in March."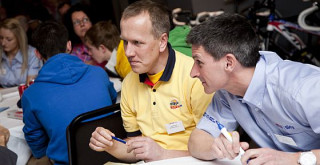 ---
Club volunteers who attend this year's Go-Ride Conferences will automatically be entered into a prize draw for Olympic Cycling tickets.
12 pairs of tickets have been secured for the six conferences from a limited allocation of tickets received by British Cycling to distribute to Go-Ride club volunteers.
Through a combination of practical advice and support, the emphasis for this year's Go-Ride Conference season is on 'Gearing up for the Games' to ensure that our schools and clubs are in the best possible position to cater for the increased enthusiasm created by the Games.
The Conferences are split in to three optional areas.
Workshop 1: The Young Volunteer Journey
Workshop 2: The Rider Journey
Workshop 3: The Club Journey
---
If you haven't yet booked your place at one of the remaining Go-Ride Conferences, please feel free to download the online invitation and return it via email to: go-ride@britishcycling.org.uk
---
Further information:
Phone: 0161 274 2070
Email: go-ride@britishcycling.org.uk