---
The Northumbria Vikings, aka Newcastle Cycle Speedway Club, began its Go-Ride Racing series at its Cramlington track by staging a very successful Autumn Cycle Speedway event.



In surprisingly pleasant weather, there was a turnout of seventeen young riders - two girls and fifteen boys. There was excellent support afforded by local Go-Ride club cluster partners, Barnesbury Cycling Club, with its own riders decked out splendidly in club colours and plenty of enthusiastic onlookers to cheer them along.

As the new track was not quite ready for bike wheels having been freshly laid, Viking's coach, Richie Smith, set out a course on the adjacent tennis courts; thanks to the continued and superb co-operation from the Sporting Club landlords. The afternoon began with a coaching session, where Richie put the youngsters through their paces with manoeuvrability tests, before moving on to the short oval competition.

The smaller than usual track layout, at around fifty metres, was perfectly suited to the newcomers and racing was fast and furious with a couple of spills, but no tears and terrifically vocal side-line support from the parents and marshals. There were also some super demonstrations of bike handling skill and speed from the young riders, who certainly looked plenty able to carry their hard court techniques successfully across to the real thing on fresh red shale come their next visit to Cramlington.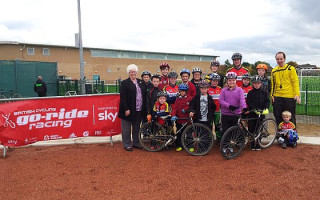 Following the age group racing competition, the riders were then taken alongside the new track for some straight line sprinting along the long jump lanes. Cycle speedway starting technique (gating) was demonstrated before a photo call with some of the local councillors, past and present, who have supported the Vikings with grants for the track and equipment.

Newcastle CSC now looks forward to staging the second Go-Ride Racing event on 1 March 2014, when the track will be fully operational in time for 'tapes-up' on the 2014 Northern League season. For full event details, please click here.

If you would like further information about the club, please visit the website here.
---