Cycling Coach Wins National Award
Cycling Coach Brian Wright has been named the UK Participation Coach of the Year at the 2010 UK Coaching Awards.
Brian was presented with the honour, which recognises his tireless work in establishing cycling clubs for all sections of society, whether male or female, young or old, in a glittering ceremony that took place at the Brewery, London on 30th November.
At nearly 70-years-old, Brian dedicates much of his time to cycling, but is showing no plans of slowing down, proudly declaring "I've got the bit between my teeth" after being handed the award.
"It was great evening – how exciting," he told British Cycling.
"As soon as I got it [the award], there was a massive great cheer from the side of the room where British Cycling were seated. It was incredible,
"It was just so nice. I felt as though what I had been doing was really worthwhile and it made it feel important.
"I'm chafing at the bit, I just want to do more. I want to put 100% back into it now."
For the past 12 years, Brian has been instrumental in establishing the Hillingdon Slipstreamers as one of the leading junior cycling clubs in London and more recently he has been heavily involved in nurturing the skills of young people using British Cycling's Go-Ride programme at Field End Junior School, while he also works with women and girls through Minet Ladies Cycling Club.
Many of the women at Minet – which thrives on a diverse multi-cultural mix – are new to the sport, but Brian has worked hard on getting them into cycling, while developing their skills and interest further though engaging training sessions on a weekly basis. He also instigates more specific training programmes for one-off events which can be competitive events, but are more commonly charity rides or sportive challenges.
Brian, who is a qualified Club Coach Level 2 Road and Time Trial Coach and a Level 2 Track Coach, has been instrumental in starting an after-school cycling club from scratch at Field End and his efforts have helped bring the completion of a 340 metre circuit at the school in October. The track has already been used for inter-school competitions, while Field End itself now has an established Go-Ride after school club.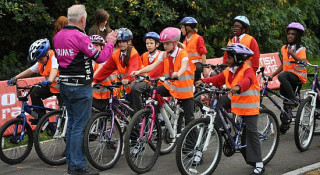 Brian passes on advice to young riders at Field End Junior School
The completion of the track is by no means the end of Brian's ambitions with Field End, though, with plans to establish the school as a centre of excellence in place through extending current facilities such as mechanical workshops and changing rooms. The plan is also to open the track to community clubs with the erection of a security fence ensuring school safety is not compromised.
British Cycling's Coaching, Education and Development Director John Mills, who was recently at the opening at the track and was also present at the awards ceremony in London, and was delighted to see Brian's efforts recognised with such an honour.
"It really is superb that Brian's efforts have been recognised with this award," John said. "He works tirelessly at Hillingdon Slipstreamers, Field End Junior School and at Minet Ladies club to introduce young people and newcomers to cycling and develop their skills through hands on coaching and expert tuition.
"His enthusiasm, innovation and determination are nothing short of remarkable and exemplify British Cycling's ideals for sustainable development in the sport through strengthening school and community links.
"It was an honour to be able to nominate him and share in his joy on the night."
For more information on British Cycling coaching courses, click here
For information on available funding for British Cycling's Coaching Courses, click here