|
---
Speaking at the pre-Olympic track cycling holding camp in Newport, Great Britain Podium Programme rider Sir Chris Hoy spoke about final preparations for the Team Sprint, the opposition and the progress of 19 year old Philip Hindes, who competes in his first Olympics as man-one.
"Since the worlds it's been going really well. We've started making significant strides," said Hoy, speaking to journalists at Newport Velodrome, just a few weeks before the London 2012 track programme begins. "Today was a proper dress rehearsal," continued Hoy, "so we had an hour between the first and second rides and half an hour between that and the final ride. It's a tough schedule."
Hoy, who won team sprint gold in Beijing alongside gold in the sprint and Keirin, is part of a four-man Team Sprint squad (with Ross Edgar as reserve) who will take to the track on the first day of competition in the Velodrome on Thursday 2 August. The multiple world and Olympic champion was however critical of the way the opposition had bent the rules in terms of squad size for the team sprint: "The Germans and the French have found a way around that to get an extra rider into their squads so they can substitute people in and out, which is has made a bit of a mockery of the UCI rulings - but that's life."
Despite his reservations, Hoy was pragmatic, choosing to focus on those things within his and his team's control – their own preparation for the event. "We've learned to accept that and deal with it and now we're practicing it like we will on the day and it's gone very well. There's more to come as well. We're freshening up and hitting form."
Despite promising numbers coming out of their Newport training camp, Hoy was cautious when asked to put a colour on his team's medal aims. "I think we have to be realistic. A bronze medal, or any medal would be an achievement and we'd celebrate that," said Hoy, mindful of strength of the competition and the fact that the three podium positions in the Team Sprint are often separated by the slenderest of margins.
Yet Hoy went on to qualify his initial statement; "But that's not saying we're not hoping to win gold because it's going to be so close that if you're up there in the mix for the medals you could win any colour."
Great Britain came away from the 2012 Track Cycling World Championships in Melbourne without a medal in the team sprint – relegated in the qualifying stage due to a technical infringement on the changeover between man one and two. The German team of Rene Enders, Max Levy and Stefan Nimke were also relegated during qualifying, leaving the path clear for Australia to take the world title, a thousandth of a second head of France. It's therefore not surprising that Hoy sees Australia, France and Germany as the primary threats: "There might be a surprise but really it's between Germany, France, Australia and ourselves. It's going to be very, very close but we're going to be at our best since Beijing."
Great Britain's relegation in the 2012 worlds in Melbourne came as a result of new man-one Philip Hindes (pictured below) changing outside of the zone specified in the event regulations, in a championships that became renowned for the zero-tolerance approach of the commissaires. For many young riders, an episode such as Melbourne could have been a huge knock, but not so for Hindes, as Hoy revealed;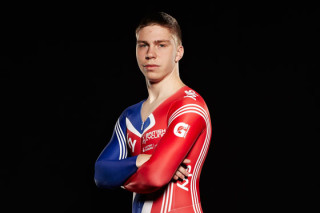 "He didn't take it badly at all – it's easy to say 'It's about process, not outcome' but really he was actually really pleased with his lap time (a 17.3 second opening lap) because he took a significant step on."
It's clear that Hindes has put his Melbourne experiences behind him and has found ways of coping with the immense pressure that comes with a home Olympics, a pressure which Hoy still feels on the eve of his fourth Games: "There's no such thing as an Olympic Games without pressure whether you're 36 years of age going into your fourth games with the expectation of replicating what you've done before, or if you're a 19 year old coming into a new team - it's all pressure – it's how you deal with it and so far he's had an amazing response in the team – we've welcomed him in and he's performed really well."
Hoy went on to describe the way the Hindes, in his man-one position, is able to an extent, to zone-out the rest of the event and focus purely on his role; "The good thing about what he does is – it's a team event but it's almost not paying attention to us. You've just got to get out the gate cleanly, stay on the black line for one lap and get out the way.
"You can block out all the distractions, the crowd, the noise and break it down into little chunks - stepping stones in the race. He does that very well – I'm confident that he'll deal with the experience and enjoy it too." Hindes' experience is one that Hoy can relate to; 12 years after the Scot made his Olympic debut in Sydney:
"I had a very similar role to him in my first Olympics in Sydney – I was man one – we had come in as silver medallists at the previous world championships – there was a bit of expectation.
"There's no such thing as easier or harder but at least with his event there are very few variables – he can control what he's going to do. Jan (Van Eijden) and Iain (Dyer) are really helping him to make sure that he's going to be ready on the day to deliver his very best."