| | | | | | | | |
| --- | --- | --- | --- | --- | --- | --- | --- |
| | Follow britishcycling.org.uk on | | | | | | |
Road to 2012: Chris Furber Interview

Story posted March 9, 2011 | UCI Para-Cycling Track Cycling World Championships
Montichari (Italy) 11-13 March 2011
Question and answer with Chris Furber, Lead Coach at GB Para-Cycling Team, on the team's journey since Beijing 2008 and this week's Para-Cycling Track World Championships in Italy.
Craig MacLean and Neil Fachie wait for the countdown from lead coach, Chris Furber whilst Jayne Ellis helps keep the tandem steady.

When did you take the coaching helm at the GB Para-Cycling Team?
The position came up when I was still a Talent Coach at British Cycling working with some very talented kids including Steven Burke, Jason Kenny, Matt Crampton, Shanaze Reade and Pete Kennaugh. I started with the team in early 2006, not long after the UCI took over governance of para-cycling and the Para-Cycling World Championships in Aigle, Switzerland. Since then, we've had over 50 gold medals at major championships and it's all down to the brilliant riders on the squad.
Beijing was a great success with 20 Paralympic medals, 17 of them gold. Has that had a bearing on the team's journey to London 2012 so far?
It certainly did. We had a very strong squad for Beijing and we brought in Sarah Storey and Jody Cundy from swimming, who were immediately strong and developed quickly. However, the average age of the Beijing squad was still about 35. We had an ageing squad and we knew that the only way to repeat our success in London was to work on the identification of new talent and develop the team.
Gareth Sheppard joined as programme manager straight after Beijing and Jayne Ellis came on board as a development coach, enabling us to remain focussed on the podium riders while handling high volume of applications from athletes in other sports. I remember wondering at our first development camp how we were going to get these new riders to podium standard and it took a lot of hard work for Jayne.
Some of those athletes are here with us in Italy this week going into their first World Championships - Jon Butterworth, Tel Byrne and Shan McKeown. It's brilliant that we've been able to develop our squad from 13 athletes in 2008 to a team of 25 riders. The best thing Paralympic sport is that you can fast track talent really quickly but you have to be very sensitive about what you are doing and know how to take that talent forward.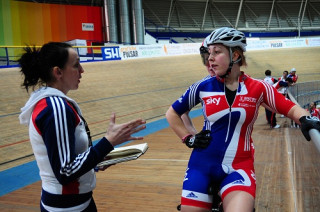 Jayne Ellis talks to Helen Scott and Aileen McGlynn before an effort on the track.
What's your approach to London 2012 qualification?
There are two strands to the process. One is the qualification for the Paralymipc Games and the other is winning medals in the events we compete in. We are in a tricky position because the majority of qualification points for London 2012 will be earned on the road as there are more road events than track and we are a very track biased squad.
This week's World Championships and those next year in LA are our only two opportunities to score qualifying points towards our nation ranking on the track in 2012. We have to get it right which is why certain riders have adopted a third event. That's because we have one athlete per class who can return points and that athlete has to do all the events to maximise qualification points.
Jody Cundy for example will ride the Team Sprint and the Kilo, which he is known for, but will also ride the 4k Pursuit. Anthony Kappes and Barney Storey are back together for the first time since Beijing and they will be riding the Tandem Sprint and the Kilo but also the 4k Pursuit.
How competitive do you expect these Track World Championships to be?
We think it will be a tough competition. Not all nations competed at the Manchester Para-Cycling Track World Championships in 2009 so it will be a really interesting championship because we will see many nations in action for the first time since Beijing. It is also the first competition under the new classification system on the track. It's a bit of an unknown for us but all we can do is to go out there and control our performance, be the best we possibly can and see where it outs us compared to other nations.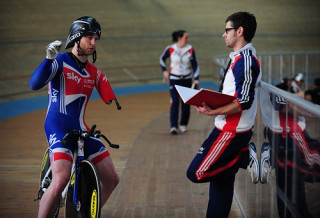 Chris Furber chats to Jon-Allan Butterworth after an effort on the track at Montichari.
With just a few days to go to the competition, what's the mood in the GB Para-Cycling camp?
The period before a championship is very important and can be quite challenging as riders are going through the tapers. One day they feel brilliant, the next day they feel like they can't climb out of bed but that's the nature of the process. The last few days have been about keeping the guys calm, making sure they do what they need to do and that they get plenty of rest.
But the team morale is high as ever and we just cannot wait to start racing. We've not had a track competition since Manchester nearly 18 months ago. The riders are desperate to get out there and race and it's all about keeping the powder dry until then. We have some brilliant athletes on our squad, including 7 Paralympic champions, and we're bound to see some exciting races this weekend.
Thank you and Good Luck!

The UCI Para-Cycling Track World Championships take place on 11-13 March in Motichiari, Italy.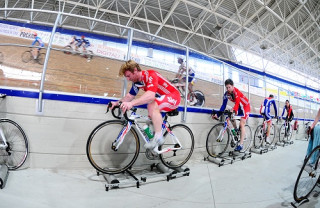 Jody Cundy, Jon-Allan Butterworth, Darren Kenny and Sarah Storey warm up on their Pinarello bikes before a busy training session on Wednesday.