Making his comeback from a broken leg in 2017, Quillan Isidore was the best performing Briton in France as he made the semi-finals of the first round of the UCI BMX Supercross World Cup.
With six Great Britain Cycling Team members in action at the Saint-Quentin-en-Yvelines track it was a busy day of racing all round.
Isidore's brother Tian was also in competition, making the 1/32 finals – the same stage fellow Development Squad rider Ross Cullen exited the action.
The other set of British BMX brothers also took to the track, with Tre Whyte making the 1/4 finals after younger brother Kye crashed out at the 1/8 finals stage – as did Kyle Evans.
Isidore leads the way
The elder Isidore brother easily progressed through the first round of racing just outside Paris, with moto wins for Evans and Tre Whyte.
In fact all six men made it through without having to go to the last-chance repechage races, as Cullen and the other Isidore and Whyte brothers all made serene progress.
The 1/32 finals saw four more Brits through, as both Whyte brothers, the elder Isidore and Evans all progressed without issue.
It was not to be for youngsters Cullen and Tian Isidore, though, with the Development Squad riders bowing out having both come close to qualification.
The 1/16 finals saw all four Brits progress, with wins for Isidore, Evans and Whyte – his win coming in a brotherly one-two.
Four men entered the 1/8 finals but only two exited as Tre Whyte finished third in his heat to progress and Isidore won his.
But there were crashes for Evans – who came into the event on form after a UEC BMX European Cup win last weekend in Verona – and Kye Whyte, the latter being taken from the track on a stretcher – seemingly as a precaution.
Whyte's older brother then exited at the quarter-final stage as he came home seventh, with only the top four progressing.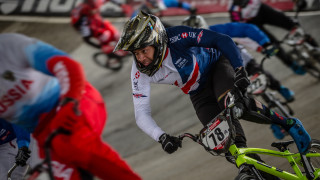 But Isidore finished third to set up a semi-final spot that initially saw him start well down the first straight.
However, he got caught on the outside of the first corner and quickly dropped back through the field – eventually coming home seventh.
Day of crashes continues
With two of the men having suffered crashes, junior world champion Bethany Shriever, riding independently, also came a cropper in the quarter-finals of the women's competitions.
The teenager finished third in her first-round moto, easing up as she approached the line, before winning her 1/8 final.
And she was looking good in the quarter-final but came down on the first bend, seemingly falling foul to a touch of handlebars and falling to the inside of the corner.
Sunday sees the riders return for round two of the UCI BMX Supercross World Cup.