Great Britain Cycling Team's Kyle Evans and Tre Whyte both exited at the quarter-final stage at the opening round of the UCI BMX Supercross World Cup on Saturday evening.
The pair were drawn in the same heat at the outdoor track in Santiago del Estero, Argentina but could not secure a top-four spot to progress to the semi-finals.
British champion Whyte came crashing to the floor at the bottom of the start ramp while 22-year-old Evans, starting in gate six, crossed the line in fifth.
Joris Daudet, Gonzalo Molina, Exequiel Torres and Tory Nyhaug all qualified to the semi-finals from the heat.
American Corben Sharrah won the elite men's event with Australian Caroline Buchanan victorious in the elite women's final.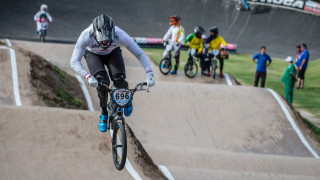 With defending world cup champion Liam Phillips absent - the 27-year-old opting to focus on a training block ahead of round two of the series in Manchester - Evans and Whyte made up Great Britain Cycling Team's representation.
Both had come through Friday's qualifying motos and faced a further three motos on Saturday in order to make the knockout rounds.
A fourth, fifth and seventh for Evans was enough for the fourth and final qualifying spot in a heat that included two-time Olympic champion Maris Strombergs.
Whyte's progress was a simpler affair - second, fifth and third enough for third overall behind Sam Willoughby and Twan van Gendt.
But their evening was cut short at the first knockout stage.
Manchester hosts the next round of the five-stop UCI BMX Supercross World Cup on 9-10 April with qualifying points for the Rio Olympics available until 30 May.