2009 UCI Paracycling World Road Championships - Day 4 Afternoon

September 13, 2009; Bogogno, Italy; by Barney Storey

Report - DAY 4 - Afternoon session
Tandem time - McGlynn & Hunter (left) and Rimmington and Turnham (right) prepare for the off
The final race of the Paracycling World Road Race Championships with Great Britain representation was the VI Tandem Women's road race. GB had two tandems in this competition with Silver medallists from the road time trial Ellen Hunter and Aileen McGlynn, plus our development tandem Rebecca Rimmington and Lora Turnham.

The race was off to a fast start with a few attacks early, with Ellen Hunter and Aileen McGlynn struggling on the first lap in an experienced field. Rimmington and Turnham were safely in the bunch for the first few laps. Hunter and McGlynn were chasing for 5 laps at a constant gap of 25 seconds before making contact after the final climb. Rimmington and Turnham were climbing well and preparaing themselves for a sprint finish, where the USA tandem were the clear favourites.

The final lap was a difficult time for the Women's bunch as the Men's tandem road race had caught them, causing some confusion for some of the women's tandems. This didn't deter Rimmington and Turnham who were clearly determined to finish well. A crash on the final climb didn't stop them from descending well and sprinting in for 3rd place. This was a very good result considering the pair have only been riding together for 8 weeks! Hunter and McGlynn finished in 5th place after chasing for the majority of a tough race.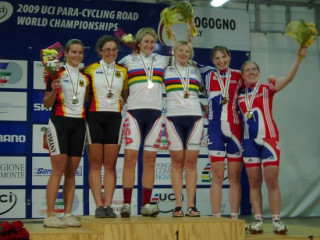 Rimmington and Turnham enjoying some quality podium time!

British Cycling spoke to Rimmington and Turnham after the race, who were clearly delighted as both were very emotional over their tremendous success:

Rimmington: "that was fantastic! The USA were pushing hard throughout the race and when the crash happened on the final climb, it was then, we knew we had to put are heads down and go!"

Turnham: "I just can't believe it! After 8 weeks of riding together, amazing!"

Result - VI Women's Tandem Road Race
1. WHITSELL/ WOODRING (USA)
2. HANDRUP/ HEINY (GER)
3. RIMMINGTON/TURNHAM (GBR)
5. HUNTER/ MCGLYNN (GBR)