2009 UCI Paracycling World Road Championships - Day 3

September 12, 2009; Bogogno, Italy; by Barney Storey

Report - DAY 3
Russ White attacks during his race

Day 3 of the World Road Champs was always going to be a tough day for Great Britain, with all the riders facing tough categories and the racing was going to be fast and furious. The riders really pushed their limits and put themselves in the front of the races attacking whenever they could. Russ White produced the ride of the day, almost pulling off victory in the super fast Men's LC1 category road race, leading the race with a Brazilian rider until the final few kilometres.

The race was a fast race and a great one to watch. The Brazilian Schwindt was away for the majority of the race with Russ White attacking to join the Brazilian rider with 2 laps to go. The two then tried to hold off the bunch who were attacking for the last few kilometres, with the pair being caught with 2 kilometres to go. Russ then finished in the main bunch.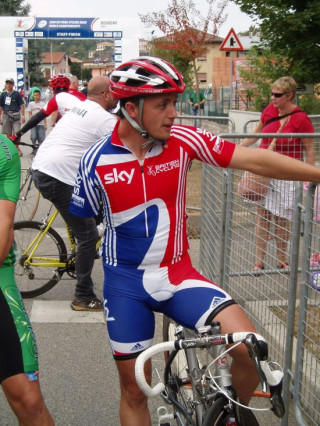 Russ waits for the off

British Cycling spoke to Russ after the finish:
"I'm pretty disappointed really. It was so close to being in the medals. I got across the gap from the bunch to the Brazilian, who was tired when I got to him. Then we tried to hold off the bunch. I've not been in that position before in a World Championship road race, so was happy to be in the hunt for medals"

Result - LC1 Men's Road Race
1. Soelito GOHR (BRA)
2. Fabio TRIBOLI (ITA)
3. Alessio BERGATO (ITA)
19. Russ WHITE (GBR)
Earlier in the day Rachel Morris kicked off the day with her road race starting at 8am! Rachel found herself in a difficult race keeping up with constant attacks before eventually finishing in 6th position. Rachel's category will once again change for next year competitions, where there will be a likely difference between the kneeling athletes compared to Rachel's position on the bike.

Result - HCC Women's Road Race
1. Andrea ESKUA (GER)
2. Monique VAN DER VORST (NED)
3. Laura DE VAAN (NED)
6. Rachel Morris (GBR)
In the men's HCB road race Rob Wickham finished in 12th position after a tough race, where the group gradually split up after constant attacks by the team from Switzerland.

British Cycling spoke to Rob later in the day after his event:
"it was a tough race, the pace was high which just made me loose contact in the end. I couldn't have done anymore."

Result - HCB Men's Road Race
1. Heinz FREI (SUI)
2. Jean Marc BERSET (SUI)
3. Stefan BAUMANN
12. Rob Wickham (GBR)
Simon Richardson, struggling with an injury failed to finish the LC2 Men's Road Race which was won by Romanian Carol NOVAK.