2009 UCI Paracycling World Road Championships - Day 2

September 11, 2009; Bogogno, Italy; by Barney Storey
Report - DAY 2 - Afternoon session


Great Britain continued their solid results in Bogogno with a surprise medal in the first event. Normally known for their track skills and speed, Ellen Hunter and Aileen McGlynn produced a good start to the afternoon session with 2nd place in the Women's tandem time trial. The event was won by the reigning Paralympic champions the USA.

British Cycling spoke to Ellen and Aileen after the event about what they thought of their first international time trial:

Ellen: "We are pleased with the result, it is very different from the track. The kilometre time trial is a straight forward 4 laps, where as this event requires good cornering and practice! Our coach Chris Furber was in the car behind us encouraging us all the way. I'm looking forward to the road race on Sunday"

Aileen: "the conditions were hard with the warm conditions. I'm really pleased with our ride. We can hopefully build on this performance for future events and try and close the gap on the USA. The road race will be another good test for us on Sunday"

Great Britain's other tandem in the event were Rebecca Rimmington and Lora Turnham. The pair are members of the GB Paralcycling teams ever increasing development programme. They produced a good first performance together at a World Championships, finishing 9th.

Result
1. WHITSELL/ WOODRING (USA) 26Mins 50 secs
2. MCGLYNN/ HUNTER (GBR) 27Mins 59secs
3. HANDRUP/ HEINY (GER) 28Mins 23 secs
9. TURNHAM/ RIMMINGTON (GBR) 29Mins 47secs
Next up was Shaun McKeown, riding in the CP4 category. Shaun is also member of our Paralympic Development Programme, who are having a good championships considering their experience at this level of racing. Shaun finished an impressive 10th in the CP4 time trial.

Results
1. Michele PITTACOLO (ITA) 26Mins 53 secs
2. Cesar NEIRA (ESP) 27Mins 9 secs
3. Klaus LUNGERSHAUSEN 27Mins 17secs
10. Shaun McKeown (GBR) 28Mins 34 secs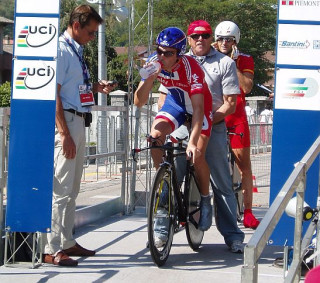 Darren Kenny
The CP3 category time trial always threatened to be a battle between the Great Britain team and the Spanish National Team and the race didn't disappoint! The first 5 riders finished within a minute and were from GB and Spain! The winner was former Tour de France stage winner Javier Ochoa, with our own Darren Kenny finishing 3rd and Rik Waddon finishing 5th. Spain occupied 2nd and 4th places as well as having the winner of this category. The road race on Sunday promises to be a fascinating race, where team work will play a huge part.

British Cycling spoke to Darren Kenny after the event asking him how he thought the race went:
"the conditions were very hot this afternoon, making the race quite demanding. My condition is good and I couldn't have gone any faster today. We will see what happens in the road race on Sunday"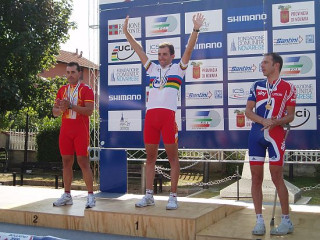 Darren Kenny acknowledges arch-rival Javier Ochoa on the podium

Results
1. Javier OCHOA (ESP) 27Min 13 secs
2. Juan GUTIERREZ (ESP) 27Mins 27secs
3. Darren KENNY (GBR) 27Mins 37secs
4. Maurice ECKHARD (ESP) 27Mins 49 secs
5. Rik Waddon (GBR) 28Mins 6 secs
Final competitors up for the team on Day 2 of time trials were Anthony Kappes, being piloted by Michael Hutchinson in the Men's time trial. The pair have only been training together for a short time and this really was a step into the unknown for both of them. Anthony has only competed on the track in past major championships and Michael is a well established quality time triallist in Britain. The pair rode a well controlled solid race for 10th place.

British Cycling spoke to them both after the finish:

Anthony: "we entered this race with no expectations and rode the event as fast as we could today on a very busy circuit" (meaning other racing tandems on different laps)

Michael: "this was my first International Paracycling competition, which was a bit of an experiment, one which I enjoyed! With the short time we have had to prepare I am satisfied with the outcome."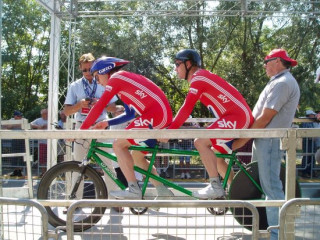 Hutchinson and Kappes on the start

Result
1. VENGE/LLAURADO (ESP) 35Mins 49secs
2. BLANCO LEAL/ MORALES (ESP) 36Mins 9secs
3. CHALIFOUR/ CLOUTIER (CAN) 36Mins 47secs
10. KAPPES/ HUTCHINSON (GBR) 37Mins 52secs