2009 UCI Paracycling World Road Championships - Day 2

September 11, 2009; Bogogno, Italy; by Barney Storey

Report - DAY 2 - Morning session

Great Britain had a successful start to the morning session on Day 2 in Bogogno. David Stone kicked off the morning session by winning a silver medal in the CP2 Mens Road Time Trial. This was a very close ride with the Italian rider only just holding off a strong finishing David by 7 seconds! David used his strength to claw back an early lead from the Italian.
David Stone - left - enjoys his medal celebration

British Cycling spoke to David after the finish about his ride:
"I am really satisfied with this result. This year has been about building into the next few years and ultimately aiming for Gold in London 2012. I have prepared specifically for the road race this year and am hoping to use my skill and speed in the road race to good use!"

Result
1. Giorgi FARRONI (ITA) 16Mins 55.33 secs
2. David STONE (GBR) 17Mins 2.83 secs
3. Helmut WINTERLIETNER (AUT) 17Mins 35.69secs
Sarah Storey claimed Great Britain's first gold medal and rainbow jersey for these championships. Sarah rode a strong race and looked controlled throughout the 19.4km test. Last off in the field, she caught 2nd place rider Greta Neimanas in the last kilometre to claim the gold medal. The time trial is an event Sarah has been targeting this year and she was very pleased to capture gold. It is interesting to note that her time would have placed her in the top 15 riders in the men's event, very impressive.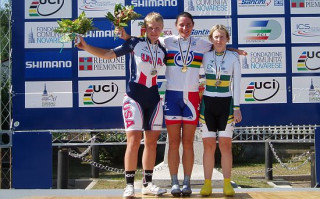 Another world title for Sarah Storey
This victory came after a difficult start to her World Championships when a training crash may have compromised her race. Whilst riding back from the road course on a training day earlier in the week, a pedestrian stepped out in front of Sarah causing her to fall. This left her with cuts and bruises just at a time when a bike rider doesn't need them. Sarah battled through this crash to capture her rainbow jersey.

British Cycling spoke with Sarah after the event:
"this is 3rd time lucky for me! I was second in the world champs in 2006, then couldn't ride the road in 2007 world champs due to a broken collarbone, so this really is great to win! My coach Gary Brickley was giving me time checks on race radio and telling where to go hard, easier, etc. It was important not to push the corners too much when I knew I had an eventual healthy winning margin from Gary's time checks. The crash I had earlier in the week threatened to cause me a problem for the race, but I managed to ignore the pain and push on to the victory. Having this rainbow jersey is very special."

Result
1. Sarah STOREY (GBR) 27Mins2.45secs
2. Greta Neimanas (USA) 28Mins 3.90secs
3. Claire MCLEAN (AUS) 29Mins 26.97secs
More Images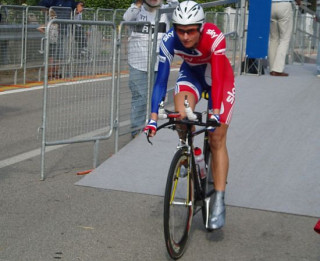 Sarah Storey goes off the start ramp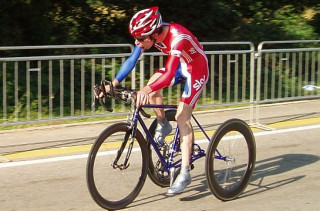 David Stone gets his medal-winning ride underway