Paralympic Talent Development Programme:
The Paralympic Talent Development programme is the bridge between open disability cycling and the Great Britain Cycling Team. It has been created to find the 2028 and 2032 Paralympic Cycling Champions and aims to cultivate an inclusive and diverse training environment that maximises opportunities for talented athletes to progress.
The Mission:
The Paralympic Talent Programme explores the potential of Para cyclists who fall into the four paralympic classification groups (see more here), developing and equipping riders with the potential to progress into the Foundation and Podium Squads. It also aims to:
Develop the depth and breadth of Para cyclists across England;
Inspire athletes, engaging them in an enriching experience that is bigger than just sport;
Utilise world-class riders, environments, coaches and partners to ensure athletes have the very best support network and tools available to them;
Enable riders to flourish both as people and athletes, promoting holistic, long-term rider development;
Identify and support riders from a diverse range of communities;
Provide positive experiences at all times, promoting and fostering physical and mental wellbeing.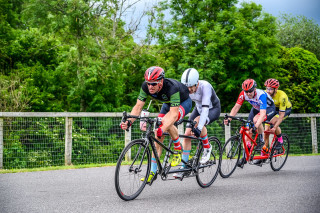 The Programme:
Initially, athletes will be identified through talent ID events. If successful, riders will then join the Talent Development National Academy and be supported by British Cycling Talent Development coaches. Support will be tailored to the needs of individual riders and the group at any one time, but will compromise elements of the following support:
Regular training camps.
121 coaching support.
Online session planning.
Group Education.
Participation in National Para Series events.
Mentoring from senior riders
Access to world class facilities such as Manchester Velodrome.
Kit and other British Cycling support.
Inclusion with GBCT (Foundation and Podium) training sessions/camps.
Apply for the National Talent Programme:
Applications are now closed for the 2023/2024 season, get in touch with the team if you have any questions - here.
The Journey:
The Paralympic rider journey can be seen below, click on the image to expand.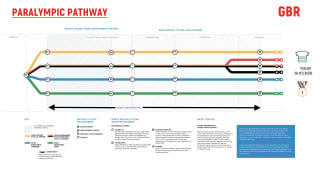 For more information specifically regarding Paralympic Talent Development, please email ParaTalent@britishcycling.org.uk or contact one of the Talent Development Paralympic Coaches here.