The National Disability and Para-cycling Series continued this week with two great Bank Holiday days of racing in Norfolk and Essex.
Thursday's time-trials took place on the iconic Lotus Test Track, while Friday's circuit races were hosted at Colchester's new Northern Gateway Sport Park – a facility made possible thanks to the support of British Cycling's Places to Ride investment scheme.
Time-trials
There was plenty of fast and flowing racing to enjoy in the time-trials, with bike victories for Finlay Webb (Exeter Wheelers) in the Open Sport Groups, Lauren Booth (PDQ Cycle Coaching) in the WC4-5 and WC-D Sport Group and Ryan Gray in the MC4-5 Sport Group.
The closest battle of the day however came in the MC1-3 Sport Group category, where Charlie Stanton-Stock took the victory with the narrowest of margins in a time of 25:24 – with Henry Urand and Ben Hetherington (WattShop) just behind him in 25:38 and 25:49 respectively.
In the handcycle categories, there were victories for Mark Allen in the MH4-5 Sport Group, Steven Marsh in the MH1-3 Sport Group and Melissa Nicholls (Cheltenham & County Cycling Club) in the WH1-3 Sport Group.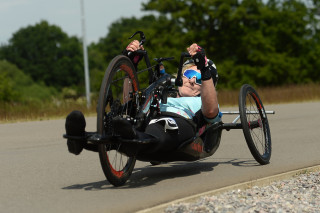 Circuit races
In the bike categories, Archie Atkinson (C5) split the group with an attack in the first lap before going on to lap the field en route to taking the MC4-5 Sport Group victory.
Finlay Webb went with him initially before dropping to form a chase group with Ben Hetherington (C3) and Charlie Stanton-Stock (C3). Henry Urand (C3) was also part of the chase before dropping off due to the fast pace, getting caught and passed by rival Colin Wallace (C3) midway through the race. Stanton-Stock, Hetherington and Wallace went on to take the podium positions in the MC1-3 Sport Group, while Webb took full points in the MC-D Sport Group.
Behind in the race, various allegiances formed between riders as they fought to hold each other off, with Lauren Booth pushing on to finish ahead of Rebecca Newark in the women's race.
A front group of three formed early in the handcycle race, containing MH3 national champion Andy Adamson, Mark Allen (H4) and newcomer Ben Whitney (H4).
They worked well together until halfway through the race when Allen attacked, but only managed to dispatch Adamson. The H4 pairing of Allen and Whitney were still together going into the final lap, when Whitney made a move with half a lap to go but couldn't get around the more experienced Allen, who outsprinted his rival to take the win.
Adamson continued his valiant effort to take the MH1-3 win, while solo efforts took Claire Danson to the win in the women's category and Shane Booth to the win in the Recumbent Trike category.