Yorkshire Points Series R9 │ Yorkshire Points Series
Location: Centre Vale Park, Todmorden
Event: 2 January 2012
Report: Snowdon Sports/Claire Crabtree

Images: Senior Race | Mixed Gallery |
---
Hope's recent signing, Jack Clarkson, completed his preparations for the National Championships next weekend with a convincing victory in the final round of the Yorkshire Points Series, staged at Centre Vale Park in Todmorden by the Yorkshire CCA on Monday.
Days of heavy rain over the festive break left the course heavily waterlogged and the flatter sections soon became a mud-bath, whilst the bankings cut up and became rutted and very tricky. And, of course, the venue once again featured its legendary cobbled climb, liberally coated with mud and an equal challenge on two wheels or on foot.
Images: Senior Race | Mixed Gallery |
Returning to the action, Clarkson, the 18-year-old from Halifax (pictured above) will now be lining up for next week's Under-23 national title race with confidence. An eventful season has seen him battle to second in the National Trophy Series, with one round to go. It's not beyond the bounds of possibility that he might claim a Championship and Series double, though rival Steve James remains a strong favourite for both.
At Todmorden, Clarkson was a class apart from his rivals and led from the off. Rob Watson (Paul Milnes RT) stayed with Clarkson for much of the opening lap, but faded as the younger rider really got into his stride on lap two. Unluckily, Watson had to pull out mid-race with a mechanical.
Clarkson showed admirable maturity in the way he mixed riding and running, keeping momentum flowing whilst many riders almost ground to a halt in the mud.
As Watson dropped out of the picture, it was Wheelbase's Lewis Craven who took up the chase, but although an acknowledged expert in muddy conditions, he could not close down the Hope rider who had the race under control well before the finish.
In the end, Bury-based Craven had to ride hard to protect second place as he came under pressure from Keighley's 39-year-old Ian Taylor (Craven Energy) and team-mate at Wheelbase, Junior rider Tom Armstrong. Craven held on to take second by just nine seconds, whilst Taylor and Armstrong kept the crowd entertained with a running-race finish: the pair opted not to remount after the hurdles a hundred yards from the finish and Taylor was able to slither and slide over the line a couple of lengths in front of his young rival.
Clare Crabtree spoke to Jack Clarkson after the event: "I wanted to start hard and get to the cobbles first then go as hard as I could for as long as I could. It was hard work and a case of looking for the green and carrying your bike over the claggy bits of mud. I have just started using disc brakes and am finding them great to use they definitely helped with stopping."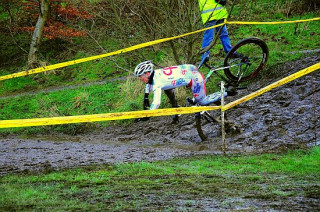 Dieter Droger wasn't alone in encountering problems on the muddy course
Veterans/Women
In the Veterans' race, Jough Watson made his usual fast start to become the early leader but by the second lap Pete Middleton had moved to the front. However, perhaps inevitably it was Chris Young who eventually gained control of the race, starting off further down the pack and working his way to the front by the third lap and then increasing his lead by a small amount every lap to finish 39 seconds ahead of Middleton.
Behind the top two the other top positions changed constantly with Dan Cook, Mike Young and Dave Haygarth locked in a fierce battle for third. With two laps to go Dave Haygarth had come through to make third his own and with a superb last lap Chris Taylor surged through from seventh to fourth, overtaking Dan Cook who finished fifth, Duncan Walmsley in sixth and Mike Young, who suffered a mechanical and had to retire.
Indeed, it was a Jekyll and Hyde day for the Young family. Former national champion Chris Young's victory meant he leapt to the top of the final overall Series with maximum points, Monday's event being his crucial seventh qualifying ride.But this was at the expense of brother Mike who had been leading at the start of the day. For much of the race, Mike was challenging for a podium finish, but whilst in fourth spot he suffered mechanical problems on the last lap which forced him to retire.
Zepnat's Diane Lee took victory in the well-supported women's category, despite a strong challenge in the early laps from Jenn Hopkins.
Youth & Under-12
Earlier, the Youths had perhaps the best of the conditions, but even they ended their race mud-spattered. Another rider with National Championship hopes, Billy Harding, took the win from Dylan Kerfoot-Robson, with Seb Marsh third. Amira Mellor was the leading female competitor.
Nathan Hawthorne led a Lancashire one-two in the Under-12 race, with another "visitor" Corinne Side the leading girl. Ava Oxley was the winner of the under-10 race, whilst Toby Kershaw and Astrid Highley were the top under eight category riders.
Results: (full Senior/Vet/Women results on taptiming)

Seniors:
1 Jack Clarkson Pedalsport 8 laps in 54:35.0
2 Lewis Craven Wheelbase 8 laps in 56:50.4
3 Ian Taylor Craven Energy Tri/Jedi Cyclesport 8 laps in 56:56.7
4 Tom Armstrong Wheelbase 8 laps in 57:02.2
5 Edwyn Oliver Evans Boneshakers 8 laps in 59:19.1
6 Simon Maudsley Crosstrax 8 laps in 59:37.0
7 Noel Clough Wheelbase 8 laps in 59:48.6
8 Neal Crampton Crosstrax 8 laps in 00:17.1
9 Jake Wormersley Sportscover RT 8 laps in 00:41.3
10 Ed Mcparland GT Racing 8 laps in 01:09.9
11 James Thompson Hope Factory Racing 8 laps in 01:15.3
12 Dieter Droger Team CF 8 laps in 02:17.8
13 Andrew Taylor Craven Energy 7 laps in 54:39.0
14 James Dalton Evans Cycles RT 7 laps in 55:37.4
15 Nicholas Barnes Zepnat 7 laps in 57:03.9
16 Andy Hardman Velo Club Moulin 7 laps in 57:13.4
17 Graeme Bird U/A 7 laps in 57:28.3
18 Ruairi Revell Airedale Olympic CC 7 laps in 57:42.6
19 Jiri Klekner Wheelspin Cycles 7 laps in 57:55.0
20 Richard Crabtree Pedalsport CC 7 laps in 58:09.1
21 Martin Wiffindin CS Pendle 7 laps in 58:11.1
22 Johnny Limebear Batley CC 7 laps in 58:18.7
23 Tom Stockhill Malton Wheelers RC 7 laps in 58:49.2
24 Sean Downey Cycleways CC 7 laps in 59:06.4
25 Alex McNicol Velo Club Moulin 7 laps in 59:33.1
26 Ben Cooper Bill Hargreaves Cycle 7 laps in 59:51.3
27 David Powell Team JML 7 laps in 00:00.3
28 Ashley Holt Rossendale RC 7 laps in 00:36.4
29 Mark Richmond JD Cycles 7 laps in 00:55.7
30 Jon Hobson Hope Factory Racing 7 laps in 01:12.5
31 Tim Kershaw Velocake 7 laps in 01:22.4
32 Competitor No 133 (Id 170) 7 laps in 01:49.0
33 Matthew Downes Seacroft Whs 7 laps in 02:09.5
34 David Beachill Huddersfield RC 7 laps in 02:20.8
35 Stuart Rider Yorkshire Biking 6 laps in 54:42.2
36 Luke Beswick Buxton CC 6 laps in 54:42.7
37 Thomas Atkinson Malton Wheelers RC 6 laps in 54:48.6
38 Rob Rawlinson 6 laps in 56:44.6
39 Paul Kelsall 6 laps in 57:09.4
40 David Ryder High Peak Cycles 6 laps in 58:14.8
41 Ivan Boyes Huddersfield Star Wheelers 6 laps in 59:09.9
42 Chris Tomes Paul Milnes 6 laps in 59:27.4
43 Oliver Elsworth 6 laps in 00:08.0
44 Competitor No 310 (Id 177) 6 laps in 00:22.2
45 Jason Craven Rossendale RC 6 laps in 01:06.9
46 Andy Martlew Norton Wheelers 6 laps in 02:28.3
47 Matthew Asquith East Bradford 6 laps in 02:32.5
48 Joe Howard This is Sheffield 6 laps in 02:43.3
49 Joseph Marjoram Airedale Olympic CC 6 laps in 03:17.8
50 Competitor No 147 (Id 185) 6 laps in 03:46.2
51 Paul Annetti Wakefield Tri 6 laps in 03:58.7
52 Paul Gilbert Yorkshire Pudding 5 laps in 55:55.3
53 Benjamin Edwards Cyclerecycle 5 laps in 55:57.2
54 Mark Robinson 5 laps in 56:05.0
55 John Newton Dirtwheels 5 laps in 56:53.0
56 Andrew Waugh Team Elite 5 laps in 58:21.4
57 Jonathan Baines Buxton CC 5 laps in 00:51.7
58 Jonny Tomes U/A 5 laps in 01:45.7
59 John Jo??? Team Tweed 5 laps in 02:12.3
60 Glyn Hopkins 5 laps in 05:00.1
61 Competitor No 308 (Id 190) 5 laps in 05:16.4
62 Competitor No 519 (Id 175) 4 laps in 38:42.4
63 Scott Wilson Manchester Wheelers 3 laps in 25:48.1
64 Andy Johnson Yorkshire Velo 2 laps in 17:44.2
65 Robert Watson Paul Milnes 2 laps in 21:09.9
66 Greg May Team Worcs Tri 1 laps in 08:42.4
67 Tom Randall Wakefield Tri 1 laps in 15:12.3
Veterans:
1 Mr Chris Young Team Wheelbase.co.uk
2 Mr Pete Middleton www.zepnat.com RT/Kuota/GSG
3 Mr David Haygarth Planet X
4 Mr Chris Taylor Pedalsport Cycling Club
5 Mr Dan Cook Planet X
6 Mr Duncan Walmsley www.zepnat.com RT/Kuota/GSG
7 Mr Jonathan Watson Charge Bikes
8 Mr John Hick
9 Mr Andrew Brindle Horwich CC
10 Mr Philip Roach Rugby Velo
11 Mr John Vaan?
12 Mr Mick Style
13 Mr Paul Daly Pedalsport Cycling Club
14 Mr Duncan Stuart Keswickbikes.co.uk
15 Mr Michael Rowson RVO Racing
16 Mr Dermot Mckee
17 Mr Alistair Dow Paul Milnes/Bradford Olympic RC
18 Mr David Headon Horwich CC
19 Mr Competitor No 221
20 Mr David Jennaway
21 Mr Richard Allen Here Come The Belgians
22 Mr Alan Dorrington Planet X
23 Mr Timothy Beachill Huddersfield RC
24 Mr Graham Bird Bradford RCC/Lynn Motors
25 Mr Marcus Spencer Batley Cycling Club
26 Mr Steven Wood
27 Mr Tony Sowden North Lancashire RC
28 Mr Michael Page Royal Air Force CC
29 Mr Andrew Westwell Pedalsport Cycling Club
30 Mr Matthew Enticknap TEF/Richardsons Race Team
31 Mr Glenn Hord
32 Mr Stephen Rimmer Holme Valley Whls
33 Mr Carl Nelson Here Come The Belgians
34 Mr Paul Sleaford Norton Wheelers
35 Mr Steven Smales Boneshakersbikes.com
36 Mr Paul Waddington Velo Club Beverley
37 Mr Owen Henriksen
38 Mr Justin Morgan
39 Mr John Rutter Cycle Sport Pendle
40 Mr Graham Piccavey Huddersfield Star Whlrs
41 Mr Ian McParland
42 Mr Charles Warren
43 Mr Jason Miles Hit The North
44 Mr Paul Lamb
45 Mr Jon Howard
46 Mr Allan Green Bronte Wheelers/Neophix Engineering
47 Mr Timothy Evans East Bradford CC
48 Mr Neil Evans
49 Miss Diane Lee www.zepnat.com RT/Kuota/GSG
50 Mr Richard Ballantine
51 Mr Andrew Johnston Clifton CC
52 Ms Jenn Hopkins
53 Mr Philip Ingham Pedalsport Cycling Club
54 Mr John Ginley Condor RC (Calderdale)
55 Mr Kevin Hickie Bronte Wheelers/Neophix Engineering
56 Mr Philip Wood
57 Mr Derek Schofield Rossendale RC
58 Mr Peter Dukes Huddersfield Star Whlrs
59 Miss Lynn Bland Norton Wheelers
60 Mr Peter Mooney Team Raleigh - GAC
61 Mr Matthew Cox
62 Mr Nick Waggett Here Come The Belgians
63 Mr Paul Blackburn Redhill CC
64 Mr Andrew Cook Pedalsport Cycling Club
65 Ms Christine Howard Matlock CC
66 Mr Robert Allen
67 Miss Nikola Butler Vivelo-Bikes/Inverse Cycaim RT
68 Mr Rob Powell Malton Wheelers Road Club
69 Dr David Kinloch Ilkley Cycling Club
70 Mr Duncan Mellor Holme Valley Whls
71 Mr Chris Lord
72 Mr Fraser Hardie
73 Mr Peter Payton Cycle Sport Pendle
74 Mr Andy Chadwick Dirtwheels Cycles
75 Mr Darren French Cycle Sport Pendle
76 Ms Marie Jackson Paul Milnes/Bradford Olympic RC
77 Mr Philip Haygarth Okehampton CC
78 Mr David Green Bronte Wheelers/Neophix Engineering
79 Mr David Hudson Pendle Forest CC
80 Mr Peter Bradford Paul Milnes/Bradford Olympic RC
81 Mr John Redmond Paul Milnes/Bradford Olympic RC
82 Ms Jane Chadwick Dirtwheels Cycles
83 Mr Rob Brown
84 Miss Andrea Halman Norton Wheelers
85 Mr Clive Nutton
86 Mr Andrew Pattinson
87 Mr John?? D??
88 Mr John Parkinson Here Come The Belgians
89 Mr Garry Marsh Seacroft Wheelers
90 Mr Andrew McHugh Hit The North
91 Mr Christopher Beetham Seacroft Wheelers
92 Miss Emily Barnes Rapha Condor Cycling Club
93 Miss Amy Baron-Hall
94 Mrs Alison Kinloch Ilkley Cycling Club
95 Mr Mark Stansford
96 Ms Beate Kubitz
97 Mrs Patricia Mellor Holme Valley Whls
98 Mr Martyn Bradford
99 Mr David Tinker Clayton Velo
100 Mr Steven Cavell Condor RC (Calderdale)
101 Ms Hannah Collingridge
102 Ms Nicola Hartle Dirtwheels Cycles
103 Mr Christopher Parker East Bradford CC
Over-60s: Paul Daley (Pedalsport CC).
Women:
1 Diane Lee (Zepnat RT)
2 Jen Hopkins (Velo Cake)
3 Lynn Bland (Norton Wheelers)
Youth:
1 Billy Harding (Paul Milnes RT) 32:32
2 Dylan Kerfoot-Robson (Rhos on Sea CC) @ 1:21
3 Seb Marsh (Paul Milnes RT) @ 4:32
4 Levi Moody (Pedalsport CC)
5 Jack Fillingham (East Bradford CC)
Under-14s: Jack Fillingham. Girls: Amira Mellor (Holme Valley Wheelers).
Under-12s:
1 Nathan Hawthorne (CS Pendle)
2 Lewis Hartley (Eastlands Velo)
3 Jenson Young (Pedalsport CC)
Girls: Corinne Side (Bolton Hot Wheels).
Under-10s:
1 Ava Oxley (Wakefield Junior Tri Club)
2 Henry Hollyman (Kirklees Cycling Academy)
3 Tyler Koch (Bolton Hot Wheels)
Under-8 Boys: Toby Kershaw (Velo Cake). Under-8 Girls: Astrid Highley (Pedalsport CC).
---
British Cycling would like to thank the organising team, officials and everyone else who helped promote this event. Our sport could not exist without the hundreds of people, many of them unpaid volunteers, who put in many hours of hard work running events, activities and clubs.