Follow britishcycling.org.uk on
UCI Cyclocross World Championships 2010 - Day 2

Event Home-Page | GB Team | Start List | Official Website | Preview
Senior Race Report
The second day of the championships saw an outstanding ride by Annie Last, who finished eleventh and best British rider in the women's event, despite starting on the back of the grid. Nikki Harris also slipped into the top twenty in 19th place. The event was won by Marianne Vos, multiple world champion on the Track, Road and in Cyclo-Cross, who underlined her credentials as arguably the greatest female all-rounder of all time.
The morning started colder than previous days with temperatures at -4C and no doubt on the course condition. As snow fell for two hours prior to the start and organisers added sand to the danger spots on course, riders completed their practice laps and with no sign of any break in the clouds tyre pressures were dropped and spikes in shoes sharpened to cope with the exceptional conditions.
By race start temperatures had risen slightly, but the course remained treacherous. For Wyman, Harris and Day a good start was helped by good griddings, while Annie Last was lining up on smokers row and would have a tough task making progress through a world class field.
Best of British on lap one was Nikki Harris who was comfortably into the top ten, followed by Wyman and Last who had leapfrogged the field into the early teens. This progression continued as Last overhauled Harris by lap two, forming a chase group which had the futile task of closing on runaway winner Marianne Vos.
Unfortunately for Last a small error cost her the chance of a top ten result, briefly dropping the chain and again pairing up with Nikki Harris, who was riding comfortably in the top fifteen. However, as Last recovered from her bad luck, Harris was dealt her hand, crashing on ice and relegating her from a position to fight for the top ten, back to fighting to stay in the top twenty - a result which didn't please her.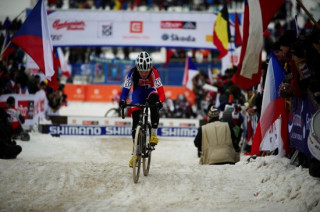 "I was focussing on trying to get a good start today, which I did. The first two laps went ok, I felt strong and from there I don't know what happened. I lost my confidence in the corners and when riders were coming past I couldn't react and go with them. I was 14th in the last lap, slipped on one of the corners and lost a further four places. Then I really lost all my confidence in the corners, but there's nothing you can do about that, it's just a bad race. I'm not happy with nineteenth; I don't know what else to say really, it's not what I wanted to do. Hopefully I can have a better race at the Nationals. Right now I'm not motivated for that but after a day or so I will be, get my head back on and then I'll be ok.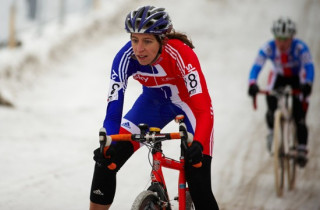 Helen Wyman using the popular foot-out technique on the ice
Further back meanwhile Helen Wyman was having a race which led her to question what went wrong, despite a schedule focussed on an outstanding Worlds performance. Slipping into 23rd place was not part of her season-long plan which started with a medal at the European Championships. After the ride Wyman elaborated.
"The race was pretty shocking, I had a reasonable start in 12th, somewhere good to move up from, but if you make one mistake on this course eight people come past and suddenly you're into the top twenty. I made some stupid mistakes and lost all those places. Maybe I didn't take enough risks in the corners, because I didn't crash the whole week.
"I also found it difficult to keep warm; there are skinny people out there that do well so I can't blame it on the fact that I only weigh 55 kilos, but when it is cold like this I struggle to get my muscles warm. I knew it was going to be cold and snowy here, we have been training in Belgium in the snow and ice. I just didn't have it today. It sucks.
"I haven't seemed to have great results since the Euros - after which we came back from a training camp. If you look at the season and have a championship medal at Euros then already it is a best ever season. But comparing other results to other seasons I've had more consistent success - not winning World Cups but in the top five. And then suddenly you try to peak for races and you're using big events as training; psychologically that's tough, maybe I should just give it up and go for great results all the time.
"Nationals is going to be a different race, there will only be three or four of us up there - a lot different to having twenty or more riders around you. I've got a GVA on Saturday in Lille which is very important for me as I'm currently in second for the series. I have to do that and then the last GVA is February. So those are the main focus."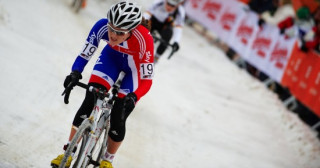 Gabriella Day, fully committed - finising 27th


Annie Last on her way to finishing eleventh
In contrast Last's eleventh place finish was a pleasing result in difficult circumstances; but underlined her credentials as Britain's leading off road rider.
"My race went well, I started at the back so I was always planning on winding it up through the race. It was always going to be risky trying to take everyone at the start because of the risk of crashes, but I could stick to the plan, wound it up through the laps and it went well really. I came off on lap two when overtaking another rider and my chain came off but it wasn't really a problem; I just got the bike working and carried on. I'm happy with how I did and happy with how I rode. I've got a steady week this week and then back into Manchester and back to full time mountain bike training."

Annie Last, chased by Nikki Harris
---
SENIOR MEN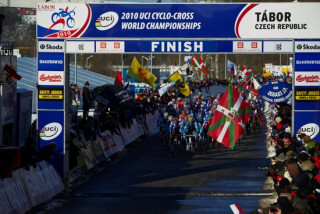 The men's race was won by Czech rider Zdenek Stybar, who delighted his home crowd by soloing to an impressive win ahead of Belgians Klaas Vantornout and Sven Nys. Ian Field was the first Brit home in 35th, followed by Paul Oldham in 42nd, with Jody Crawforth just behind him in 44th.

Pre-race, Ian Field and Jody Crawforth get the warmup treatment
With skies clearing, strong midday sun ensured the icy conditions abated, only to create its own problems. Tyre choices were rethought, bikes became tarnished with a mix of mud, then snow and ice as the course froze through the latter stages of the race.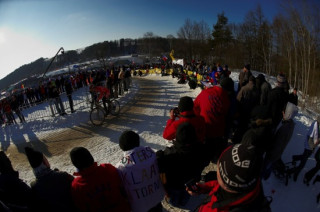 Ian Field coped best with the conditions performing to his capabilities after a season of mixed results on the continent. First Brit by a minute and subsequent favourite for the British Championships, Field was happy with his result, posting consistent laptimes in a pack battle - a place he acknowledged few others improved upon.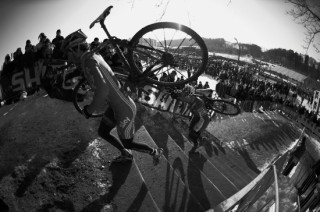 "You see guys like Hermida who started with me only got up to 26th, a minute ten ahead of me, and he is a class act medalling at MTB worlds most years. I had to make a big effort on the first two laps to try and get into a good group which I never quite made contact with, then when I went through my bad patch trying to recover from the earlier effort that's when the big group containing Page caught and passed me, I simply had nothing in my legs to stay with them and therefore was struggling for the latter stages of the race more or less on my own.
"I was pleased I finished strong considering the length of the race for me, 1hr 13mins I think! I was riding with Petr Dlask for a lot of the race and eventually got the better of him, I know he is way past his best now but its still a good scalp to get. On the last lap I passed Bart Aernouts who has been a top ten rider week in week out all season, he was obviously having a bad day but again it shows the step I have made this year in my first year of living the Belgian lifestyle racing against the top guys every weekend. Given another summer and winter focusing solely on 'cross should bring about another huge step for me and realistically I think I can be inside the top 15 in a couple of seasons."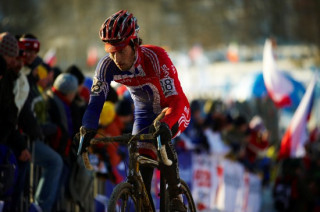 Field was also quick to recognise that such a performance would not have been possible without unconditional backing from his number one supporter.
"It has taken me a while to find my feet looking after myself after the Plan days but with Pete Hargroves backing me fully to help the sport of 'cross in the UK it's easy to concentrate on what I need to do and that's put in the hours on the bike and do all the little things right again. Without his support this simply would not be possible but already it's starting to pay off with results like that at the weekend."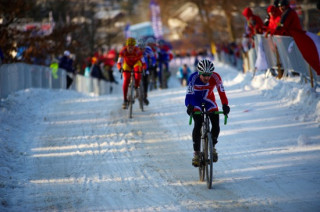 For those still working full-time jobs alongside racing bikes both Paul Oldham and Jody Crawforth gave good accounts against the continental professionals. Oldham rode himself into the race, finishing 42nd after an average start; a better result than in 2009 and a step in the right direction while Crawforth felt his form came a day too soon, resulting in a 44th position finish.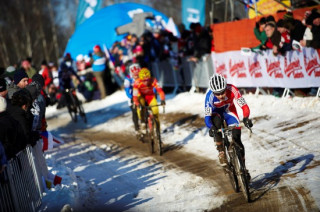 "I had a good enjoyable week on the ice, but just had a bit of a pants day today. I woke up feeling knackered, I felt so good on the course yesterday and was looking forward to a good race, which never materialised. I tried hard on the first few laps and moved up but from there I went backward. It felt like a long way. I'm glad I came but wish the race could have been a day sooner. When it comes to the Nationals my best form was in January and I haven't been going as well since but I'll just have to try and get myself going for the weekend."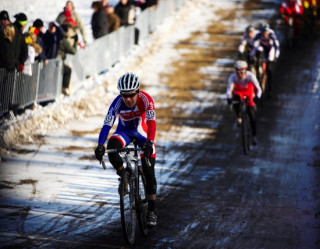 All three riders will be favourites for the aforementioned British Championships this weekend at Sutton Park, where you'll be able to see the best of British cyclocross on display over two days of amazing racing. For full details follow the link.
Results
Senior Women
1 Marianne Vos (Netherlands) 0:42:59
2 Hanka Kupfernagel (Germany) 0:00:45
3 Daphny Van Den Brand (Netherlands) 0:01:02
4 Katerina Nash (Czech Republic) 0:01:20
5 Eva Lechner (Italy) 0:01:41
6 Christel Ferrier-Bruneau (France) 0:01:47
7 Caroline Mani (France) 0:01:53
8 Pauline Ferrand Prevot (France) 0:02:11
9 Sanne Van Paassen (Netherlands) 0:02:28
10 Lucie Chainel-Lefevre (France) 0:02:31
11 Annie Last (Great Britain) 0:02:37
12 Meredith Miller (United States Of America) 0:02:55
13 Sabrina Schweizer (Germany) 0:03:00
14 Amy Dombroski (United States Of America) 0:03:16
15 Sanne Cant (Belgium) 0:03:18
16 Linda Van Rijen (Netherlands) 0:03:23
17 Rocio Gamonal Ferrera (Spain) 0:03:30
18 Maureen Demaret Guichardot (France) 0:03:39
19 Nikki Harris (Great Britain) 0:03:49
20 Elisabeth Brandau (Germany) 0:04:02
21 Martina Zwick (Germany) 0:04:04
22 Katrin Leumann (Switzerland) 0:04:09
23 Helen Wyman (Great Britain)
24 Joyce Vanderbeken (Belgium) 0:04:27
25 Maureen Bruno Roy (United States Of America) 0:04:28
26 Arenda Grimberg (Netherlands) 0:04:37
27 Gabriella Day (Great Britain) 0:04:51
28 Jana Kyptova (Czech Republic) 0:05:00
29 Sophie De Boer (Netherlands)
30 Pavla Havlikova (Czech Republic) 0:05:25
31 Laura Van Gilder (United States Of America) 0:05:53
32 Reza Hormes (Netherlands) 0:06:10
33 Martina Mikulaskova (Czech Republic) 0:06:14
34 Zuzana Pirzkallova (Czech Republic) 0:06:15
35 Masami Morita (Japan) 0:06:36
36 Nikoline Hansen (Denmark) 0:07:06
37 Marzena Wasiuk (Poland) 0:07:16
38 Ayako Toyooka (Japan) 0:07:28
39 Chika Fukumoto (Japan) 0:08:57
40 Michiko Shimura (Japan) 0:09:48
41 Vicki Thomas (Canada) 0:10:31
42 -1lap Eszter Dosa (Hungary)
43 Zuzana Vojtasova (Slovakia)
DNF Katherine Compton (United States Of America)

Senior Men
1 Zdenek Stybar (Czech Republic) 1:08:58
2 Klaas Vantornout (Belgium) 0:00:21
3 Sven Nys (Belgium) 0:00:38
4 Martin Bina (Czech Republic) 0:00:40
5 Francis Mourey (France) 0:00:56
6 Martin Zlamalik (Czech Republic) 0:01:02
7 Christian Heule (Switzerland) 0:01:07
8 Radomir Simunek (Czech Republic) 0:01:18
9 Gerben De Knegt (Netherlands) 0:01:49
10 Bart Wellens (Belgium) 0:02:13
11 Marco Aurelio Fontana (Italy) 0:02:25
12 Nicolas Bazin (France) 0:02:26
13 Steve Chainel (France) 0:02:28
14 Timothy Johnson (United States Of America)
15 Marcel Wildhaber (Switzerland) 0:02:37
16 Erwin Vervecken (Belgium) 0:02:45
17 Thijs Van Amerongen (Netherlands) 0:02:47
18 Marco Bianco (Italy) 0:02:54
19 James Driscoll (United States Of America) 0:03:07
20 Lukas Flückiger (Switzerland) 0:03:09
21 John Gadret (France) 0:03:11
22 Isaac Suarez Fernandez (Spain) 0:03:13
23 Laurent Colombatto (France) 0:03:14
24 Christoph Pfingsten (Germany) 0:03:17
25 Kevin Pauwels (Belgium) 0:03:29
26 José Antonio Hermida Ramos (Spain) 0:03:32
27 Fabio Ursi (Italy) 0:03:34
28 Jean-Pierre Drucker (Luxembourg) 0:03:42
29 Kamil Ausbuher (Czech Republic) 0:03:52
30 Jonathan Page (United States Of America) 0:04:05
31 Joachim Parbo (Denmark) 0:04:15
32 Thijs Al (Netherlands)
33 Ondrej Bambula (Czech Republic) 0:04:21
34 Peter Presslauer (Austria) 0:04:31
35 Ian Field (Great Britain) 0:04:43
36 Milan Barenyi (Slovakia) 0:04:50
37 Bart Aernouts (Belgium) 0:04:56
38 Petr Dlask (Czech Republic) 0:04:57
39 Johannes Sickmueller (Germany) 0:04:59
40 Gusty Bausch (Luxembourg) 0:05:00
41 Jeremy Powers (United States Of America) 0:05:13
42 Paul Oldham (Great Britain) 0:05:33
43 Wilant Van Gils (Netherlands) 0:06:07
44 Jody Crawforth (Great Britain) 0:06:12
45 Javier Ruiz De Larrinaga Ibanez (Spain) 0:06:19
46 Constantino Zaballa Gutierrez (Spain) 0:06:37
47 Luca Damiani (Italy) 0:06:48
48 Vaclav Metlicka (Slovakia) 0:06:50
49 Keiichi Tsujiura (Japan) 0:07:27
50 Ryan Trebon (United States Of America) 0:07:37
51 Martin Haring (Slovakia) 0:08:39
52 Robert Glajza (Slovakia) -1 lap
53 Rodger Aiken (Ireland)
54 Szilard Buruczki (Hungary)
55 Bold-Erdene Boldbaatar (Mongolia) -3 laps
56 Naranbat Ariunbold (Mongolia) -4
57 Dror Pekatch (Israel) -5
58 George-Daniel Anghelache (Romania)
DNF Niels Albert (Belgium)
DNF Egoitz Murgoitio Rekalde (Spain)
DNF Mariusz Gil (Poland)
DNF Magnus Darvell (Sweden)
DNF Enrico Franzoi (Italy)
DNF Arnaud Labbe (France)
DNS Philipp Walsleben (Germany)
DNS Andrew Layhe (Ireland)