Nine riders have been named in the Great Britain Cycling Team squad for the final round of the 2015/16 UCI Cyclo-cross World Cup in Hoogerheide, Netherlands on 24 January.
British Cycling National Trophy Series winner Hannah Payton, currently holding 33rd place in the overall world cup standings after six rounds, will look to break into the top 30 in Hoogerheide. Payton is joined in the elite women's event by Amira Mellor and Beth Crumpton.
Nick Barnes will represent British interests in the men's under-23 event, looking to secure a world cup points finish for the second time this season.
A five-strong squad has been named for the junior men's event, with Tom Pidcock, Ben Turner, Daniel Tulett, Will Gascoyne and Mark Donovan heading to the Netherlands.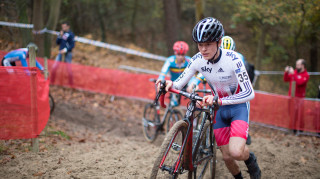 Coming just a week before the UCI Cyclo-cross World Championships, the final world cup round offers a vital final opportunity for riders to prove form ahead of the showpiece event in Heusden-Zolder in Belgium at the end of the month.
Great Britain Cycling Team for the UCI Cyclo-cross World Cup, Hoogerheide:
Elite women
Beth Crumpton
Amira Mellor
Hannah Payton
Under-23 men
Nick Barnes
Junior men
Ben Turner
Tom Pidcock
Daniel Tulett
Will Gascoyne
Mark Donovan