British Cycling Policy Adviser Chris Boardman has today been named as the first national commissioner of the Government's new cycling and walking body, Active Travel England.
Active Travel England will be responsible for driving up the standards of cycling and walking infrastructure and managing the national active travel budget, awarding funding for projects that improve both health and air quality.
It will also begin to inspect highway authorities for their performance on active travel and identify particularly dangerous failings in their highways for cyclists and pedestrians, and will help local authorities by training staff and spreading good practice in design, implementation and public engagement. The body will be a statutory consultee on major planning applications to ensure that the largest new developments properly cater for pedestrians and cyclists.
Having campaigned on behalf of British Cycling members for better and safer spaces to cycle as our Policy Adviser since 2012, in 2017 he was appointed as Greater Manchester's first Cycling and Walking Commissioner, leading on the development of the 1,800 mile Bee Network. In 2021, he was named as the Chair of Sport England.
Through his role with British Cycling Chris has been instrumental in driving the case for active travel up the political agenda, and rallying support behind vital changes in areas including dangerous junctions and updating the Highway Code.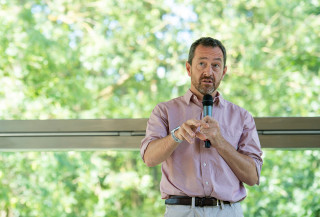 Responding to his appointment, Boardman said:
"The positive effects of high levels of cycling and walking are clearly visible in pockets around the country where people have been given easy and safe alternatives to driving. Perhaps most important of all, though, it makes for better places to live while helping both the NHS and our mission to decarbonise.
"The time has come to build on those pockets of best practice and enable the whole nation to travel easily and safely around their neighbourhoods without feeling compelled to rely on cars. I'm honoured to be asked to lead on this and help deliver the ambitious vision laid out in the government's Gear Change strategy and other local transport policies.
"This will be a legacy we will be proud to leave for our children and for future generations. It's time to make it a reality; it's time for a quiet revolution."
British Cycling Chair, Frank Slevin, added:
"For more than a decade Chris has been a tireless advocate for active travel and has played a vital role in the progress made over recent years in bringing the case out of the shadows and into the very heart of Government.
"I know that Chris will approach this interim position with the same rigour, focus and determination for which he is so renowned, and those traits will be more valuable than ever before as the Government embarks upon implementing its transformational Gear Change vision.
"I'm incredibly proud that British Cycling has been able to support Chris throughout that time, and his journey should act as a reminder of the power of elite sport, and the voice of our members, in driving real societal change."
You can support our campaigning efforts by joining British Cycling as a member from just £26. Find out more here.