The three political parties that have formed governments over the past 20 years - Labour, Conservatives and the Liberal Democrats - have all made commitments in their manifesto to improve everyday cycling.
This was not the case at the last general election in 2015 when British Cycling wrote to all party leaders asking for commitments in four key policies.
"The three political parties that have been in government all make commitments to every day cycling in their manifestos," British Cycling policy advisor Chris Boardman said.
"This represents progress from the last general election in 2015, and reflects what we at British Cycling already know – that demand from towns and cities across the country to prioritise cycling can no longer be ignored."
"There is a long way to go, commitments are still vague, investment still low, and there is not enough focus on building the infrastructure necessary to enable normal people to cycle to school or work which would benefit society as a whole. We have recommended that the next government commits at least 5% of transport spend every year to delivering the infrastructure necessary to get Britain cycling."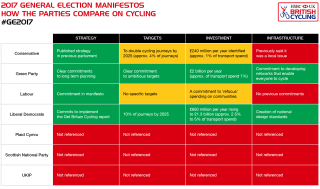 The Conservative Party says it will continue to support local authorities after it published the Cycling and Walking Investment Strategy (CWIS) in April. The Labour Party also commits to implementing the CWIS.
Neither party commits to increasing investment despite the current strategy falling well below recognised minimum levels with just £240 million identified which may be invested in walking and cycling.
British Cycling has said that investment should start at 5% of transport spend per year which equates to £1.4 billion in 2017.
The Liberal Democrats go further by saying they would deliver the Get Britain Cycling recommendations which are much more ambitious than the Cycling and Walking Investment Strategy. The recommendations include investing £10 per head on cycling per year rising to £20 per head which equates to £650 million rising to £1.3 billion per year.
The Conservative Party will take action against poor air quality but does not make specific commitments. It also says it wants to see well-designed public places including improving the quality of road surfaces but again makes no specific commitments.
The Labour Party makes strong commitments to reduce road deaths by adopting a 'vision zero' approach to transport safety. It also wants to encourage people out of their cars to help achieve cleaner air by introducing a new Clean Air Act.
The Liberal Democrats also make commitments to cutting air pollution by introducing a Green Transport Act and low emission zones in towns and cities.
The Green Party would reprioritise transport investment and have identified £2 billion per year from the roads fund to develop cycling networks.
What the manifestos say
Labour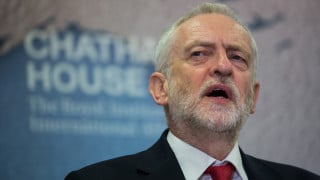 "We will invite the National Infrastructure Commission to recommend the next stages for developing and upgrading the National Cycle Network. We reaffirm the commitments in the Cycling and Walking Investment Strategy."
"Labour government will consult on establishing an environmental tribunal with simplified procedures to hear challenges to unlawful government decisions, like those made on the air quality strategy, without engaging in prohibitively expensive processes."
"Labour will introduce a new Clean Air Act to deal with the Conservative legacy of illegal air quality.
"Our plans will encourage and enable people to get out of their cars, for better health and a cleaner environment. Labour will position the UK at the forefront of the development, manufacture and use of ultra-low emission vehicles, supporting the creation of clean modes of transport through investment in low emission vehicles. We will retrofit thousands of diesel buses in areas with the most severe air quality problems to Euro 6 standards."
"After seven years of stalled progress, Labour will reset the UK's road safety vision and ambitiously strive for a transport network with zero deaths, reintroducing road-safety targets, setting out bold measures that will continuously improve safety standards."
"We will refocus the roads building and maintenance programmes, connecting our communities, feeding public transport hubs and realising untapped economic potential."
Conservative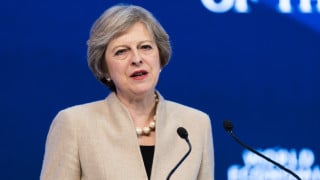 "We will continue to support local authorities to expand cycle networks and upgrade facilities for cyclists at railway stations."
"We will take action against poor air quality in urban areas."
"Our towns and cities should be healthy, well-designed and well-tended places. We will encourage the very best practice in the design of buildings and public spaces, including a review of the design of government buildings, to ensure that when the state builds, it makes a positive contribution to a local area. We will do more to improve the quality of road surfaces, filling potholes – especially in residential areas – and reducing road noise."
Liberal Democrats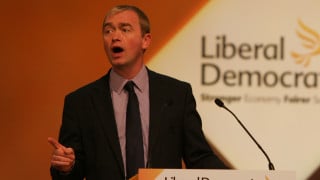 "Design towns and cities as safe and attractive walking spaces and implement the recommendations of the Get Britain Cycling report.
"Air pollution in the UK is a killer. It contributes to 40,000 premature deaths a year and costs the NHS £15 billion. This year, London exceeded its annual air pollution target in just five days. The government has failed time and again to comply with EU limits on pollution.
"That's why the Liberal Democrats will pass a Green Transport Act, introduce an Air Quality Plan to reduce air pollution and protect UK citizens, and support the manufacture of low-emission and electric vehicles, generating jobs and exports. This plan will include:
- A diesel scrappage scheme, and a ban on the sale of diesel cars and small vans in the UK by 2025.
- Extending ultra-low-emission zones to 10 more towns and cities.
- All private hire vehicles and diesel buses licensed to operate in urban areas to run on ultra-low-emission or zero-emission fuels within five years.
We will also reform vehicle taxation to encourage sales of electric and low emission vehicles and develop electric vehicle infrastructure including universal charging points."
Green Party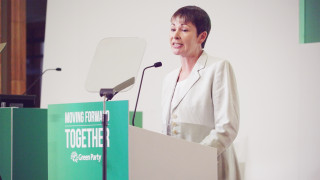 Clean, safe, accessible public transport and more walking and cycling could make us all healthier and happier.
Invest in low traffic neighbourhoods and safe, convenient networks of routes for walking and cycling, including safe places for learning to cycle, so people of all ages and those with disabilities can choose to make local trips on foot, by bike or mobility scooter.
Create a new Clean Air Act, expanding and funding a mandatory clean air zone network.
Plaid Cymru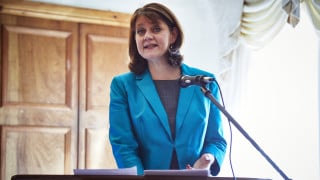 Plaid Cymru wants to see a real Wales-wide transport system, including re-opening the Carmarthen-Aberystwyth railway, improved Valleys line services, improvements to the A55 and the expansion of the Traws Cymru bus network. We will also ensure that walking and cycling is integrated with bus and rail services.
UKIP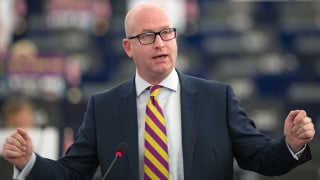 No mention of cycling in manifesto.
Image credits
Theresa May - World Economic Forum / Boris Baldinger
Tim Farron - Liberal Democrats