In December 2016, Chris Boardman launched a passionate plea asking people to support British Cycling's Turning the Corner campaign by signing a petition lobbying the government to create safer and simpler road junctions.
The petition, which attracted over 27,000 signatures and subsequently led 5000 people to email their MP asking for their support in Parliament, called for the government to update the Highway Code.
Read more about the Turning the Corner campaign
Research Chris Boardman answers your FAQs Expert blog
A simple amendment to the Highway Code could reduce motor traffic queue lengths by %.

https://t.co/zqSYiIed7A #TurningTheCorner pic.twitter.com/hcSvnkwMoJ

— British Cycling (@BritishCycling) June 27, 2017
Boardman said: "The single most dangerous places for cyclists and pedestrians on our streets [are junctions].
"Two-thirds of all traffic accidents happen around junctions and it's not difficult to see why.
"It's no surprise that cycling is considered intimidating and often unappealing for those who just want to pop to the shops, and or that parents such as myself are scared to let their kids cross the road."
The Turning the Corner campaign calls for a 'universal' rule to give way when turning, in order to create simpler, safer junctions for all road users.
Boardman continued: "Because we don't have this piece of guidance, Britain's junctions are twice as dangerous [for cyclists] as those in Europe, where many countries already successfully employ a similar rule.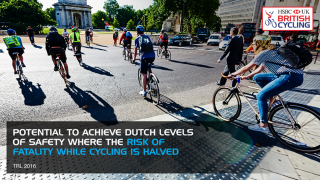 "I would urge all road users – regardless of whether they get around in cars, on bikes or on foot - to sign the petition to help us bring safer roads for all of us one step closer and to help make our villages and towns more civilised places, particularly for our older and younger generation.
"Guidance that compels us to treat each other as human beings not obstacles - who wouldn't want that?"
The Highway Code has not been fully refreshed for nine years. It may be amended by the Secretary of State for Transport before being 'laid' before Parliament.