British Cycling has today confirmed the dates for the 2016 British Cycling MTB Downhill Series.
The series, won by Manon Carpenter and Joe Smith in 2015, will kick off on 2 April in Ae Forest in Dumfries and will conclude in September at Llangolen. In between the series will visit Fort William, Rhyd-Y-Felin, Moelfre, and Powys.
British Cycling's cycle sport manager, Jonathan Day, said: "We're delighted to be able to confirm the dates for the 2016 British Cycling Downhill Series. The series was a huge success in 2015 with some great racing and fantastic crowds.
"The 2016 series will take in some of the biggest mountain bike venues across the country and showcase some of the best riders in the world."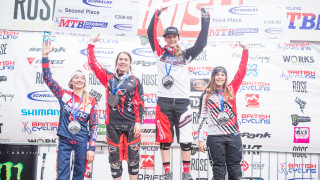 The series will visit the Revolution Bike Park in Powys for the very first time. Situated just over the Welsh border at the foot of Snowdonia National Park, the trails are set in 100 acres of woodland and include over 300 metres of vertical descent.
Series organiser, Si Paton, said: "We're very pleased to be able to welcome the event at Revolution Bike Park to the calendar for 2016. It's a brilliant venue and will offer riders a new challenge.
"We've seen some amazing performances from British riders on the world stage over the last couple of years and it's vital that we have high quality venues available across the county for anyone who might be inspired to take up the sport."
Full dates for the 2016 British Cycling MTB Downhill Series
2-3 April 2016
Round one, Ae Forest, Scotland - Enter Here
14-15 May 2016
Round two, Fort William, Scotland - Enter Here
28-29 May 2016
Round three, Rhyd-Y-Felin (Bala), Wales - Enter Here
25-26 June 2016
Round four, Moelfre, Wales - Enter Here
27-28 August 2016
Round five, Revolution Bike Park, Powys, Wales - Enter Here
17-18 September 2016
Round six, Llangollen, Wales - Enter Here