British Cycling is delighted to announce that the 2018 HSBC UK | National Cyclo-Cross Championships will be live streamed, enabling cycling fans across the country to experience the excitement of one of cycling's fastest growing disciplines.
The championships, which will take place in Sunderland's Hetton Lyons Country Park from Saturday 13-Sunday 14 January, will see the country's best riders go head-to-head in the battle to be crowned national champion, and will be live streamed on British Cycling's website and Facebook page.
The coverage will commence with the under-23 women's championship race on Sunday at 09:30am culminating with the elite men's championship race starting at 2:30pm.
The event will see 2016 junior cyclo-cross world champion Tom Pidcock in action, while Nikki Brammeier will be aiming to win her third British crown in succession.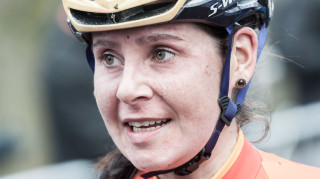 The decision follows the success of last year's live streaming of the HSBC UK | National Circuit Championships in Sheffield, which attracted over 110,000 viewers across the event, as British Cycling continues to develop the way it engages with cycling fans and take the sport to a wider audience.
Jonny Clay, British Cycling's director of cycling, said: "The popularity of cyclo-cross continues to grow in Britain, and it's fantastic that we are now able to take the discipline to an even greater audience by streaming this year's action live on British Cycling's website and social media channels.
"At British Cycling we want to inspire more people to get on their bikes and that's why it is so important that we invest in our national championships and make them an event that riders, spectators and viewers will remember.
"We know that cyclo-cross is a hugely entertaining sport to watch and with the strength of the field and a fantastic course we wanted to ensure that as many people as possible can enjoy a great spectacle and be inspired to attend another event or take up the sport themselves in the future."
Find out more about the 2018 HSBC UK | National Cyclo-Cross Championships.