British Cycling has announced that the 2018 HSBC UK | National Cyclo-cross Championships will take place at Sunderland's Hetton Lyons Country Park in January.
The championships, the culmination of the cyclo-cross season, will be staged over the weekend of January 13 and 14.
Last year's championships, held at Bradford's Peel Park, saw Ian Field claim his fifth elite men's title, and Nikki Brammeier defend her elite women's crown.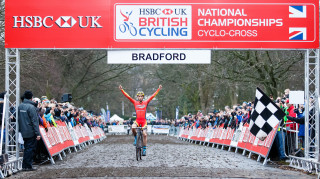 Evie Richards, 2016 under-23 world champion, and reigning junior world champion Tom Pidcock were also among the winners in the junior categories.
The dates and venues for the 2017/18 HSBC UK | National Trophy series have also been announced.
2018 HSBC UK | National Cyclo-cross Championships
13-14 January
Hetton Lyons Country Park, Sunderland
2017/18 HSBC UK | National Trophy
Round 1
7-8 October
Moorways Centre, Derby
Round 2
28-29 October
Leisure Centre, Abergavenny
Round 3
11-12 November
Sports Centre, Shrewsbury
Round 4
26 November
Cyclopark, Gravesend
Round 5
10 December
Peel Park, Bradford
Round 6
7 January
Trinity Park, Ipswich