---
Nottingham Outlaws BMX club swapped 20 inchers for 700c wheels recently for a 220 mile sponsored ride to raise much needed funds for their club. Outlaws' press officer Phil Gray-Blest tells the story.
Nottingham Outlaws BMX has a huge membership and some talented riders racing at National level. The club desperately needs additional funds to develop the track and training facilities and it was from this need that we developed the idea of a long distance sponsored bike ride for some of the young riders and parents. We wanted the ride to be a real challenge so we decided on a 220 mile route from Abersoch at the tip of Lleyn peninsula in North Wales, back to Nottingham. The route kept us to mainly minor roads, including a fantastic journey over Snowdonia.
Only one of the riders had experience of this type of riding and most of the youngsters had never even ridden a road bike before. The two youngest riders, Louis Gray-Blest and Wilfred Njuguna, were only 12 years old. They all had 10 weeks to get themselves prepared, partly on their own and partly with a few organised rides that we put together. We even took part in an organised charity ride that included a steady six mile climb up the 'Cat and Fiddle' near Macclesfield. Some of the young riders did more training than others, but they are all fit athletes and adapted very quickly to the demands of long road rides.
We all travelled out to Abersoch in the Bunneys Bikes minibus with the assistance of Simon Bradford who made the journey in his own vehicle just to help us all get there. Simon went home that night while the minibus stayed with us for the entire trip. Our first night was spent in an empty house in Abersoch – we were all relieved when we found the key that had been hidden for us. The chip shop was just closing when we got there (at 8pm) so we raided the minibus for supplies and Nick made us all a fantastic pasta meal which was better than chips anyway.
Above: Riders ready, pedals ready, go! The Outlaws assemble in Abersoch ready for the off.
The following morning, Nick turned chef once more, treating us to a big full English breakfast. Everyone had done well to get up early, sort out their kit and get their bikes ready. We had the obligatory photos in the can well before 8:30 when we hit the road.
We had 80 miles to cover on day one as well as the most climbing, so we started at a steady pace in an attempt to keep everyone in a close-knit group. The lads were definitely getting better at group riding and splits were occurring much less than on our initial training rides, if only Michael Njuguna would ride with his hands on the handlebars! The mountains were still a long way off as we made good headway along the coast road and we got to Porthmadog ahead of the minibus. We stopped next to the market for a well earned breather and waited for the minibus to arrive with supplies.
As we then headed on towards Ffestiniog the road began to rise upwards and we also began to get wet. We were nervous that the day in the mountains would be a real ordeal, especially as we could see dark clouds and heavy rain ahead of us. As we began the main climb towards Ffestiniog we could see a huge panorama away to our left with torrential rain on the other side of the valley while we climbed in the sunshine. As we got higher we were greeted by the incredible sight. Below us, through the pine trees a rainbow shimmered. The group began to split but the young guns were under strict orders to wait at any road junctions that they came to. The minibus was also backing us up by stopping with them. So it was that we made our way up the mountain, splitting and re-grouping, until we got to the road that crossed the high moors.
This was a wonderful, winding and undulating ribbon of freshly laid tarmac and has to rate as one of the best roads I've ever ridden on. There were smiles all round as the sun shone and the wind was to our backs and we waved up at the huge rescue helicopter that came over to buzz us. After miles of glorious riding we began the descent down towards Lake Bala, but we crossed straight over the main road and onto another minor road that climbed upwards, past remote farmsteads, until we began another long and fast descent down to Bala. The lads could not believe that they had now ridden the toughest part of the entire ride and we celebrated by finding a friendly cafe that coped well with a mass order for beans on toast.
We still had over 30 miles but we felt refreshed and supremely confident. After some tricky navigation and a short but heavy downpour on our way out of Bala, we found ourselves on a narrow unclassified road that tracked the Dee Valley, the main road was on the other side. I remember thinking that there was nowhere else I'd rather be as the road twisted and turned past hedgerows and hamlets, with buzzards tweeting overhead. Every rise in the road treated us to a new and wonderful panorama as we reached the crest. When we reached the junction to a main road we knew there was not far to go and after one last climb we hit the long fast descent into Llangollen. There were smiles all round as we grabbed our Mars recovery drinks and Nick handed out bananas to everyone. I'm not sure if the lads realised what they had just achieved but I was so proud of them, as were Nick and Matt.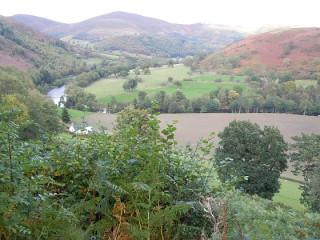 Above: The Dee Valley near Llangollen.
The Bridge End Hotel had a cooked breakfast waiting for us on Saturday morning, though I managed to spill mine all over my lap. How we all laughed. We were a bit late starting out, but we were all tired and the weather was very damp, grey and misty. We then discovered that Harry's bike had a completely worn out bottom bracket so Harry jumped into the minibus while Matt and Nick went off to The Bike Shop in Wrexham. They would meet up with us later – once Matt had replaced the bottom bracket. The ride started on a road called Panorama Walk, and we all had a good idea that meant a hilly start, so we went for a warm-up ride first. Panorama Walk did not let us down with a series of seriously steep climbs. Unfortunately the weather meant we did not see much of the Panorama as we rode through the clouds. Braden slipped his gears as we hit one of the steep climbs and then he let out a cry of surprise as he realised how his gears worked – he had not realised he could change gear on the front rings and had in fact spent all of the previous day in the big ring! These BMX'ers are tough. By the time we had reached the Cheshire plains the weather had brightened up and we got up some speed on the quiet and fairly flat roads, as long as we kept in a tight formation. Richard took over at the front when we got to roads that were familiar to him from his childhood. We made it into Stoke in plenty of time to book into the Premier in at Trentham Gardens and get ourselves well freshened up and settled down for an early dinner.
Sunday morning and Richard knew we were in for a good climb out of Stoke, but kept it to himself. Everyone managed well, which boded well for the rest of the ride and we ended up on a lovely road that meandered its way past old red brick farms and villages with thatched roofs. Our plan was to get past Uttoxeter and then head on to the Salt Box cafe in Hatton, but we were hugely disappointed to find that it closed on Sundays. We could not think of anywhere else near enough for lunch but we could see a petrol station just down the road where they had sandwiches, doughnuts and coffee, which did just fine. We were now on roads that were familiar to me and we headed towards Duffield where we had done a training ride just a few weeks before. Wilfred got a flat tire at the bottom of Eaton bank and I stopped with him and Henry, his dad, while we waited for the minibus. Once repaired, Wilfred turned down the invitation of a lift in the minibus and we pressed on, up Eaton bank, where we found the rest of the crew waiting for us. We still had some big hills to get over and most of the lads were feeling it by now. The strongest hill climber, Louis Coxon, was still keen to race up the bigger climbs where we would wait at the top for everyone else. Henry was feeling very tired now but he kept on going, the adrenalin kicking in as we got closer to home.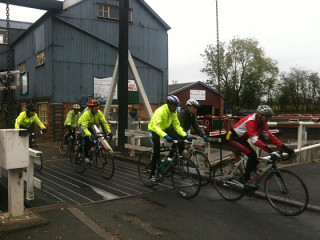 Above: The intrepid group cross a canal bridge in deepest Cheshire.
We rode down Sellars Wood Drive towards the track when we began to see a crowd of people across the road and then a surge of youngsters on BMX bikes, headed by Chris Wimbledon, riding up to greet us. We rolled on down to the awaiting reception party which was such an amazing surprise. Simon Morris lit some fireworks and there was a spread of party food for us all to tuck into. The lads all took their road bikes up onto the start hill and after photographs were taken they sped off round the track. Ben Carnill went down on the first double and Harry Gray-Blest went straight into him and over the handlebars. No real injuries or damage to the bikes and they both completed their lap of honour.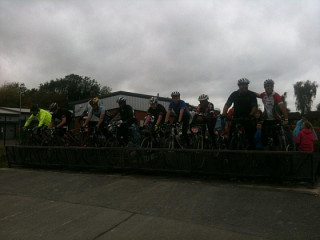 Above: The Outlaws return to their home track and pose for a celebratory group pic on the start ramp.
The three day adventure was a real privilege for me, taking these young riders on such a challenging journey. There was lots of enthusiasm in the club for more events like this and talk very quickly turned to what the next challenge should be - perhaps a longer single day ride, perhaps a coast-to-coast over the Lake District, or maybe a BMX endurance event. Plenty of food for thought.
More about the club: www.nottinghamoutlaws.com