Follow britishcycling.org.uk on
Report: British BMX Series Rounds 3 & 4

Words: Rich Eames Photography: Luke Webber and Richard Robotham Video: Corinne Walder

14-16 May 2010, Derby
Results: Round 3 - Round 4 | 2010 British BMX Series Standings - Rider | Team | Club
2010 BMX Coverage Home | 2010 British BMX Series Home
Video By Corinne Walder
With Olympians Liam Phillips, Marcus Bloomfied and Shanaze Reade all in attendance, rounds three and four of the British BMX Series were the biggest of 2010. We've got the photography online, with a full report, results and videowrap from Corinne Walder to come.
Luke Webber's Photostream
Bradford makes it two from two
Despite the presence of three British Olympians it was American Joey Bradford who made his visit to rounds three and four of the British BMX Series pay with back to back wins at Alvaston Park, Derby.
With two convincing wins, Bradford saw off competition from Marcus Bloomfield and Liam Phillips, who was enjoying his first race back from a landmark second-place at the previous weeks Copenhagen Supercross and rightly enjoying the attention.
Saturday nights racing had added importance when Haro bikes stepped in to give away a BMX - the winner determined by the rider who won the final! There were eight lucky competition qualifiers, each drawing a lane at random, matching them with a rider. After a high-pressure and personal introduction to the pros, it was left for the gate to drop and the winner to be decided - in both the race and the competition!

It could be you... One Lucky contestant to win the Haro BMX, as kid storm the track!
From the gate Bradford was at the front, leading over the first double with Phillips and Bloomfield bar-to-bar. Despite the Brits' best effort though, Bradford made seamless work of the relentless Derby track, taking a monster win in front of a capacity crowd who'd stayed to watch the main event.



Joey Bradford takes time to contemplate his win following day one, as the sun sets over Derby
As the sun was setting over Alvaston though, there were questions over the viability of the Sunday event - with heavy rain predicted throughout. Thankfully, that was a question that wasn't even asked though, as Sunday dawned bright, with fleeting cloud cover, keeping track conditions perfect.

Phillips and Bloomfield - they chased hard, but to no avail.
From day one Bradford was clearly the fastest on track, dominating the heats and motos, and on day two there was no change - Bradford reaching the final and keeping the Brits out of contention. In the finals Kelvin Batey rode through in the two spot, with Bloomfield securing his second podium of the weekend in three.

RACE BY RACE
Rounds 3 and 4 of the 2010 National series saw us head to Derby, home of Derby County FC and one of the longest BMX tracks in existence. Quads of steel and lungs of iron were needed for this bad boy. Either that or a YZ250F, whichever suits you really!
Let's get straight into it with the 6 and unders where Jack Hawkins did his best impression of dad by shredding the track and taking 2 wins. Ethan Duffy was consistent with two seconds and birthday boy Elliott Bowyer split thirds with a very factory looking Owen Scattergood. The micro missiles rock, it's that simple.
Richard Robotham's Photostream
In the 7's Keon Smith McDermott took two wins back to Preston on his orange Intense, check his website at ksmracing.com. Clic-Sargent's Ethan Craik took two seconds and thirds were split between Route 55's Alex Brookes and Redline's Travis Wilson. This class is getting exciting already, can't wait for the rest of the season just to see how it pans out.
Matthew Hutt seems to have that little bit more than the rest of the 8's but it won't stop Ryan O'Loughlin, Matthew Harman, Kobi Joyce, Ryan Brookes and a whole host of others getting in the mix. Keiran Bolton narrowly missed out on the A final both days, expect that to change before the end of the season.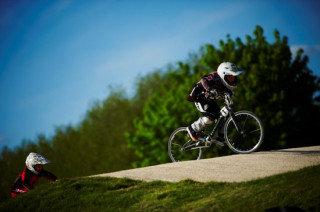 The 9's is just dynamite, Finn Hall doubled up but it wasn't without some serious heat from Ross Cullen and Mason Chidley. Things got very tasty heading into turn one on Sunday when a touch of elbows sent Ross exit right. Josh Coppin, Lochlan Dudley put in some good rides with Jacob Watkinson taking an excellent 4th on Saturday.
The 10's were all about EA/Pure's Ethan Vernon on Saturday after a problem for Gideon Orena but G was on it on Sunday with Ethan in hot pursuit with the rapidly improving Shay Casey in third. Gotta mention Jonathan Eastwood for two good rides as well.
Team Bunney's Louis Gray Blest stepped up with two wins in the 11's pleasing the vocal Bunney's crew on the last straight. Harley Taylor was consistent with top 3's as was Haydon Green. Don't forget George Moret and Eddie Moore either.
Kye White had it all his own way in the 11's with Tom Novis and Josh Moore in the mix too. The Hawks have Diagoro Fortune looking to do some damage as the class progresses and if he carries on the way he's riding then that's a distinct possibility.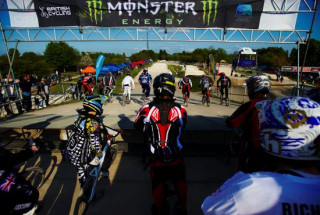 I know I said it on commentary but Paddy Sharrock is a berm shredding genius! For such a young kid he has pro level track craft and turn skills. Unfortunately, his power is not where his skills are and the win eluded him but then again...who cares!! Jimmy Orena got his power going and took it past a hard charging Jordan Hatcher on Sunday. I can see all these guys splitting wins this year and it will be interesting to see what happens at the end of the year.
Quillan Isidore is too good for the 14's!! He was 10 bike lengths plus ahead every lap and needs some more competition. Callum Wing and Josh Tucker did their best to keep him honest with Brad Spick doing his best till he wrecked himself post race on the Saturday night. I've seen the photos and they're not pretty!!
Ryan Stack and Dan Pullen swapped wins in the 15's with Can Howard knocking on the door till he crashed in Sunday's final, he walked away though which was nice to see. Clic-Sargant's Cemil Sabri is looking to upset the apple cart in this class too. Brad Minns weekend ended after a big crash in Saturday.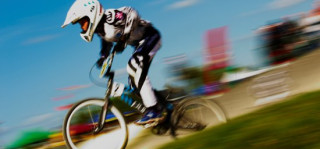 Jacob Roberts showed the rest of the 16's his back wheel on both days with a stellar display but you can't count out the likes of Route 55's Jordan Perry and Alex Metcalfe. Jack Bloor did Derby proud with a second on Sunday.
Billy Luckhurst seems to have it going on in 17-24 with two wins but it wasn't without some serious heat from Ash Davey, Rob Hawker, and Robbie Goodman. Gotta give some props to Andy 'Boy band' Clucas who seems to be sleeping in a rocket propelled bed and having the power transfer to him in his sleep! Love Not Money's latest signing took a second and a fourth. He still needs a hair gel co-ey though, any takers?
25-29 doesn't have many riders but the standard of racing is excellent, Matt Allen took a third and a fourth and Gaz Bates a second and a third. Michael Smart had it going on with two wins though. Pete Hosker made the final on Sunday after 'Hoskering' his run off on Saturday...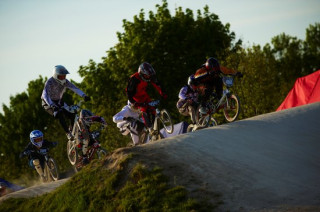 Which brings me to Masters, which is likely to be the most hotly contested class of the year. Forget Elite, the over 30's is definitely where it's at! The depth of talent in this class is absolutely phenomenal and it looks like a pro main from 6 years ago. Hilly had the win on Saturday after Marco 'Stay Strong' Dell'Isola unclipped out of the gate and struggled to get his foot back into the pedal. He still pulled it round for a 5th place though. Flemdog and Zoltan Buday took a second and third on Saturday where Dylan Clayton was semi'd after an incident over a jump with a gust of wind. Sunday saw Marco take the win from Dylan and Andy Shaw. Ryan Yearsley made up for the disappointment of not making Saturday's final with a 7th on Sunday where as two of last year's top 3 (Paul Cope and Matt Barnard - current no 1) didn't even make the main!! Seriously, this class is nuts and I for one can't wait for what's in store for the rest of the year.
The 40 plus veterans had it going on with Wayne Foster smoothing it both days but not without some habenero chilli style heat from Ady Warden and the rider formerly known as 'Bof'. But holy guacamole did we not have the return of respectable married man and father to be Phil Charnley whose mind was willing but legs were slightly less so. I really hope this class grows as its thoroughly entertaining stuff.
Girls; Emily Hutt took 2 wins in 6 and unders matching her brother's performance. 7-8 girls was taken by Darcie Taylor from Imogen Hill and Trinity Camm. 9-10 Girls was won by Kim Baptista supported by the likes of Kaya Clay, Mary Johnson, Chloe Oaten and Olivia Howard. Lauren Stack and Chloe Taylor traded wins in 11-12 Girls and Bethany Campbell wrapped up 13-14 Girls. I'm just mourning the loss of her super pink frame... get the Intense painted Beth!! Another Beth (Hallett) took 15-16 Girls. 25+ was won by Ria Goodman on Saturday and Claire Morrison on Sunday.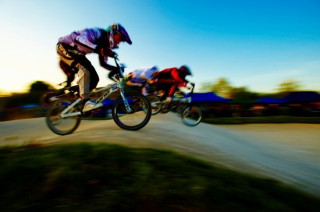 Cruisers; Tom Novis won 9-12 both days ditto Roy Jones in 13-14 and Cam Howard in 15-16's. Josh Souto had 17-29 on Saturday but could only manage 4th on Sunday where Ryan Bauer took the win from Josh Hanlon. Neil Harbour continued where he left off at Cheddar with 2 more wins from a hard charging Mark Sleigh. I reckon Sutty has a win in him this year as well, he's my dark horse for this class...
35-39 is basically rock hard with TJ and Hilly swapping wins but you can't count out Messrs Mead, Hawkins, Eccles et al for a moment. 40-44 was a fight between Karl Sanderson and Jon Moore and it ended one all. Kev Blackman and Bernie 'OCD' Schaale were thereabouts as well. This class had 25 riders on Sunday, how rad is that..!! Phil Beer and Ady Warden split wins in 45+ as well.
Championship Women was all about Abbie Taylor but Charlee Greenerz (her facebook name) kept her honest. Big shout out to Emily James with her first straight speed, she's definitely been putting the work in. Must be that new coach she's been working with... ;-)
Junior Men is as hard as ever, Grant Hill stepped it up for a win both days. Jordan Hayes was going well till a crash on Sunday left a significant chunk of track surface in his elbow. Jack Hall came through for the 2 spot from Dom Skidmore and a consistent Curtis Manaton. This class will go to the wire as well I reckon.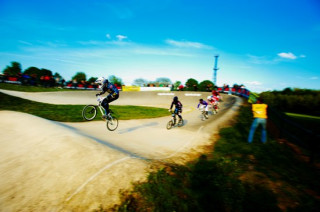 Finally Elite. This saw Liam Phillips fresh off a UCI podium finish with friend and rival Joey Bradford along for the ride. Bloomy was in the house as was Kelvin O'Batey plus the rookies Adam Brazil and Kyle Evans. Chaos ensued in Saturday's semi as Kelvin Batey's helmet shed a screw causing its peak to fall over his face a la Ady Warden at last year's Brits. Unfortunately it was no laughing matter as it cost Kelvin a final berth and he was less than pleased. Joey Bradford stepped up for 2 wins which pleased Chloe Oaten and a local kid called Joe who ended up with a free bike each after they drew his lane in the bike giveaway comp. Cal Strickland couldn't stay upright on Sunday crashing twice and Dan McBride continued to impress with some great laps. Can't forget Adam Brazil making Sunday's main after a comeback from injury, nice one.
So that's it, Derby was a rad weekend. The host club did a great job, booking some decent weather and I'm looking forward to going back for many years to come.