Report: BMX South West Summer Series Round 3
Event: 9th May 2010, Portreath | Report: Alan Humphreys | Images: Rob Steadman and Pat Caddy
The Duchy Pirates played host to round three of the Summer Series and their efforts were rewarded with a fantastic turnout of 210 riders despite their track being the furthest westerly point in the region. The day was overcast but the forecasted showers held off and the wind was such that it was not blowing across the track as it has at previous events. Racing started at 12:45 and was all over by 4:20 in a slick and well-organised meeting and was a credit to the host club with some of the best and closest racing seen in Cornwall for a long, long time.
Thirty four Novices were split into five classes with ten riders in the 6 and Unders group won convincingly by Tiverton's Billy Cox followed home in the A Final by Cornwall's Rhys Fraser. Cornwall's Jamie Bayly had followed Exeter's Willow Peake home in all their motos but capitalised on Willow's misfortune when he fell on the third straight to lead home his club mates Harvey Bardoe and Liam Bridger in an exciting sprint to the finish for a CBMXC 1-2-3. Bideford's Ben Searles took three of the motos in 10-12s but succumbed to chasing club mate Will Hutchens home in the fourth race. Kieran Draper from Decoy shared moto wins with Bideford's Harvey Roberts and Alex Hammett but took the last race to win the 13-15 group overall. Decoy's Chris Draper on a cruiser took two moto wins and in a close race to the finish line in race four was beaten by Cornwall's George Johnstone who had also won an early moto.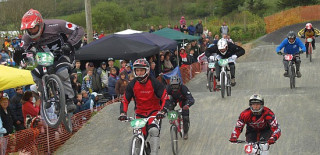 Cruiser numbers in the South West appear to be on the increase and the 9-12 group saw some fine riding from Duchy's Scott Dominguez and Cornwall's Josh Caddy with a finish in the fourth race that had barely a foot between them and was probably race of the day. The mixed group of 13-16s saw Burnham's Roy Jones take two moto wins but it was Cornwall's Jake Quintrell who took the other one and the last race of the day to win the group overall. Decoy's Andrew Green was third in all four races. Brian Jury from Bideford won all the races in 17-29 leading home Cornwall's Dan Lord. Decoy's Paul Eccles was the man to beat in combined 30-39 with Tiverton's Jason Nicholls and Duchy's Andrew Rickett his placeman in the A Final. Combining the two over 40s groups proved popular with Bristol's Neil Hopes winning three motos and Duchy's Dave Herman (2) and Ian Wherry (1) the others but it was Neil who took the A Final honours.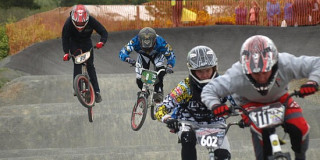 The Female classes were represented by twenty-three riders with Duchy's Lauren Shaw Sands heading home the 25+ Cruiser class from Tiverton's Paula Hallett. Molly O'Loughlin from Tiverton took all the wins in Female 6 and Under whilst in the combined 7-10s it went all the way of Cornwall's Megan Wherry from club mate Louise Penfold and Exeter's Georgina Martin. Another combined group saw 11-14s together with Tiverton's Shannon Blake taking the fourth race win and Burnham's Alesi Tye (2) and Cornwall's Katie Kemp (1) the others.
Burnham's Cory Maggs won the first moto in 6 and Unders after club mate Harry Stevenson had fallen but Harry made good to win the group by first placing in the other three races.
Jack Nation from the Duchy Pirates must have winning in his genes as his father was a top flight motorbike racer of old and Jack dominated the 7s from Cornwall's Ashley England and Exeter's Freddie Cole. Mikey Gould used home-track advantage to win all his races in the 8s leading home Cornwall's Ewan George each time and earlier moto winner Burnham's Ben Saunders in the A Final. Duchy's Harry Fernihough took two moto wins in the 9s with Tiverton's Ryan O'Loughlin taking another but it was Decoy's Ethan Squibb who won all his moto group and the A Final with some superb riding. Cornwall's Alex Diment won three races whilst club mate Daniel Commons-Lomax won the other and followed him home for second in the 10s group.
Josh Coppin from Burnham proved unbeatable in the 11s heading home Decoy's Emily Green and Duchy's Charlie Currie. Scott Dominguez and Josh Caddy continued their battles from cruisers into the Expert class for 12 year olds with Josh winning one moto but Scott taking the other two plus the all important A Final. The 13s saw Burnham's Liam Brown take the A Final ahead of Cornwall's Tyler Caddy and Burnham's Eddie Moore whilst in the 14s it was Duchy's Sheldon Johns who stamped his authority on the A Final from Burnham's Jack Williams and Josh Moore. The 15s was a closely fought group with moto wins shared between Duchy's Matt Roddis (3), Exeter's Dan Davis (2) and Bristol's Matt Abbot (1). In the A Final it was anyone's' race but Matt Abbot and Matt Roddis stacked badly and Dan Davis romped home well ahead of Decoy's Oliver Fay.
Matt Abbot was carried off on a stretcher but appeared to be in good spirits despite concerns for his welfare. The 16s saw Decoy's Jake Cornforth reign supreme ahead of Bideford's Dan Jury whilst in the 17-24s it was anyone's guess who would win the A Final after two moto wins apiece for Decoy's Jason Fay, Duchy's Martyn Green and Exeter's Sam Leggett. Jason and Martyn stormed into the lead but it was Martyn Gren who took the A Final win by a narrow margin from Jason Fay and Bideford's Brian Jury. In the combined 25-29/Masters class we saw Bideford's Michael Smart hold reign from Exeter's David Brooks and Bideford's Sam Hommell.
The feedback to the event shows how well it went and what a great day it turned out for everyone who attended. The South West Summer Series now moves to Exeter on 30th May for round 4.