|
Hayes Hawks have just fired us their latest club news, following the break-in saga. This time there's better news, including track improvements, grants and coaching sessions. Here's the lowdown from the Hawks themselves:
Saturday club sessions are back in full swing after the recent bad weather and the break in.
The track has started to dry out and we were able to do some maintenance work last weekend to start getting it back into shape. It's amazing what a small group of people can do in one session on the track and if we just do that every week it will improve things greatly. Big up to those that put the graft in.
We have had some recent good news that the club is to receive £1,000 from Botwell Ward Budget via the council. This will go to maintenance of the track during 2010 and we also hope to get more funding via the council and fundraise ourselves to give us a track fund of £5,000. With this we also hope to change the jumps on the small second straight from berm one/two. Elliot McGrath is drawing up a plan with two sets of triples, almost like a six pack to go from one berm to the other that will flow into and round to second berm..
We will also dig out the floor area and relay stone to stop it being so wet in that section.
With the funding we hope to get 40 tonnes of surface and 40 tonnes of stone and pay for a machine driver for a couple of days.
After the first summer regional race at Dagenham the Hawks came out on top and sit at number one in the region. Well done to all our riders for a great effort and keep up the work. The next round is at Bournemouth on March 7 and we will be having a mini bus going for any of our members to use thanks to our grant from Help a London Child. Also, make a note in your diary for the Hawks regional race on May 2 as well as the start of the club winter series - dates for which will be announced soon.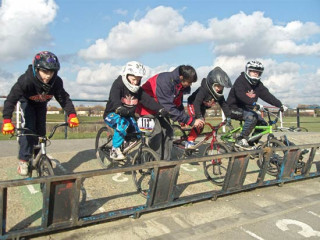 And if you're looking to get the most from your racing, the club is planning to book Dylan Clayton and Kelvin Batey to run two coaching clinics during the Easter holidays, as well as coaching at the track with Alastair Findley from British Cycling and club coach Lew Robinson. No dates set as yet, but watch the website for updates.
To start the ball rolling with fundraising we are organising another Horse Race night and will be looking for race sponsors. We will let you know the date and venue in the next couple of weeks.
We'll have more news as Billy "Nighthawk" Luckhurst returns from his photoshooting road trips in sunnier climes; alright for some eh!