A quite amazing 271 entries made this event the biggest South West Regional for many a year with only one visiting rider, George Warner from Andover, and almost seventy Novice riders. The weather stayed bright and the newly built track by Steve Jenks was well prepped and smooth. The motos ran relatively incident free with a few fallers, including Steve Jenks but no injuries of note.
Three classes were subscribed enough to warrant semi-finals, Novice 7-9's, Cruiser 25-39 and Expert 17+. First up were the Novices with a close race to the line between Cornwall's Fintan Jones and Bath's Jack Tranter finishing in that order with Exeter's Jack Farrell in third. Duchy Pirate Christian Harris stormed to victory in the second semi ahead of Cornwall's Finlay Keogh and Burnham's Lewis Stevenson. Cruisers were up next with Tiverton's Jason Nicholls getting the snap and Bideford's Michael Smart in hot pursuit but Carl Harris from Exeter overhauled them all momentarily until Smart retook the lead to win just ahead of Harris and Burnham's Clive Hawkins with Nicholls in 4th. Semi number 2 saw Decoy's Damien Mead strike ahead but Duchy's Chris Cummins reeled him in to take the win from Mead and Bath's Richard Green. The 17+ semis saw carnage in the first as Burnham's Tom Palmer and Exeter's Daniel Thorne raced neck and neck into the first berm but made contact and went down taking others with them handing the win to Duchy's Ben Clarkson. Adam Brazil from Burnham dominated the second semi to win.
And so to the Finals, with Novice 6 & Unders up first and Jack Nation taking the win from Decoy's Bailey Squibb and Burnham's Kyle Tye. Novice 7-9's A Final saw Jack Tranter continue his winning streak heading home Cornwall's Finlay Keogh who survived a coming together with club mate Fintan Jones which sent him down on the first straight. Exeter's Jake Lawry claimed victory in the Novice 10-12's after winning all his motos from Bristol's Ben Williams. Novice 13-15's was a win for Duchy's Josh Kranat from club mate Nicky Stevens. In the Novice 16+ Tredegar's Marti Pearce went for a full sweep of wins taking the A Final from Bideford's Alan Johns. Only two MTB's raced in their class with Duchy's Richard Holroyd winning the Final.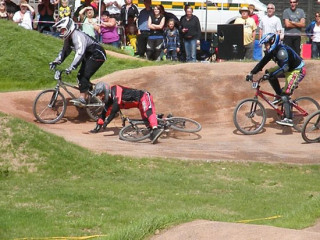 The combined Cruiser class for riders up to age 24 saw Duchy's Ben Clarkson and Bideford's Brian Jury battling out all day with Clarkson taking the Final honours. Cruiser 25-39 A Final and Michael Smart continued his dominance from Clive Hawkins and Decoy's Damian Mead. Exeter's Brian Shell claimed the front place romping home ahead of Duchy's Dave Herman and Exeter's Steve Jenks in Cruiser 40+.
The Expert 6 & Under A Final saw a melee take some of the front-runners out but Tiverton's Reece Cutler avoided trouble and won ahead of club mate Danny Nicholls and Burnham's Harry Stevenson. Exeter's Ryan O'Loughlin won the Expert 7's A Final ahead of Duchy's Harry Fernihough and Mike Gould. The Expert 8's group ran as a Grand Prix with Burnham's Josh Coppin taking advantage of a coming together in the fourth race to head home ahead of Decoy's Alfie Eccles. Expert 9's was also a GP with Exeter's Zak Ramsden pulling out a large lead over Cornwall's Alex Diment in their fourth race to draw on points within the group overall. Expert 10's was also a GP with Burnham's CJ Tye heading home Exeter's Jim Cole and Decoy's Katie Yeates who had earlier shown the boys the way around with three fine second places in her motos.
Expert 11's and the scene was set for a battle between Cornwall's Josh Caddy and Burnham's Eddie Moore with the sprint for the finish line being won by Moore from Caddy and Decoy's Benji Armitage. Roy Jones took the honours in Expert 12's ahead of Todd Rattue and Kurt Pugsley to secure a Burnham 1-2-3. Another GP in Expert 13's and the overall victory was wide open as they headed into their fourth moto but Decoy's Elliott Caruana secured the win by claiming 2nd behind Bristol's Ben Waters. All eyes were on the riders in the hotly contested Expert 14's as Cornwall's Dan Davis battled with Duchy's Matt Roddis and visting Andover rider George Warner getting himself in the groove and piling on the pressure. In the end it was Roddis's win just ahead of Davis with Warner a commendable third. Exeter's Daniel Hill stamped his authority on the Expert 15's Grand Prix with yet another win ahead of Burnham's Ryan Stack.
After the excitement and carnage of the 17+ semi-finals it was a stacked B Final with Burnham's Tom Palmer picking up the win after some of the other contenders that had fallen in the semi went down again. In the A Final Adam Brazil wrapped up a great day's racing from Burnham's Matt Mitchell and Duchy's Ben Clarkson. The 25+ A Final belonged to Bideford's Michael Smart, who had been riding two classes, but not without a 'photo finish' on the line with Bath's Richard Green and Exeter's Kristian Jenks behind them. The Female 7-9's ran as a Grand Prix with Cornwall's Megan Wherry holding off the attentions of club mate Louise Penfold for overall victory. Decoy's Emily Green dominated the Female 10-12's winning all her races including the A Final ahead of Tiverton's Shannon Blake and Cornwall's Joanna Kistle. Burnham's Amelia Silvestre also dominated her class, the Female 16+, with four wins ahead of Exeter's Elly Skinner and Rachel Brooks. The Ladies 20+ saw wins for Burnham's Kimberley Scoones and Tiverton's Mandy Cutler but it was Cutler who won the group overall.
A great days racing on this newly completed track, which is soon to have the berms tarmaced, with no obvious serious injuries which is always a bonus. The only blight on the day was the antics of some local lads resulting in police attendance. The Tiverton BMX Club are to be applauded for their efforts in getting this new National-standard track funded and built and its future will be watched with interest. The final round of the South West Summer Series takes place at Bath on 6th September with the winners of a number of classes still yet undecided.