Kieran Reilly was yesterday crowned Britain's first BMX freestyle world champion at the 2023 UCI Cycling World Championships, and with the support of Sport England British Cycling is making great progress towards growing the discipline and nurturing the next generation of talented riders.
As part of our most recent funding from Sport England, announced in May 2022, we received additional dedicated funding to grow the BMX freestyle discipline, spanning coaching, events, facilities, education and talent.
In the 15 months since, key milestones include:
Delivery of a six-round, six venue National Series, including a National Championships.
Creation of an entry-level BC X Series to support progression to national competition.
Establishing a full talent pathway for promising young riders.
Development of a new judging award and coaching course.
Working with new and existing facilities, British Cycling has also launched a new BMX freestyle park club programme to enable riders to benefit from regular coaching, with Junction 4 (Darwen), Adrenaline Alley (Corby) and Asylum Skatepark (Sutton-in-Ashfield) all offering new 'club nights'. The ambition is to increase the number of participating clubs to 20 in the next year.
Each facility has also benefitted from investment through financial investment from British Cycling and Sport England's Places to Ride programme, with Junction 4 unveiling a new brand-new dirt jump area at last month's round of the national series.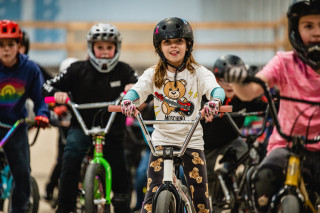 British Cycling's Director of Sport and Participation, Jonathan Day, said:
"We're incredibly proud of the work we've done with Sport England and the BMX freestyle community to grow the discipline, and capitalise on the surge in interest we saw following its successful integration into the Olympic programme at the Tokyo Games.
"We know that urban sports have a key role to play in helping our organisation to continue to grow its reach and relevance amongst younger audiences, and through a growing network of clubs, facilities and events we're really encouraged to see so many new riders finding their place in this amazing community."
The BMX freestyle park programme at the 2023 UCI Cycling World Championships kicked off on Friday, with all five of Britain's elite men, Olympic gold medallist Charlotte Worthington and 16-year-old Sasha Pardoe all qualifying for yesterday's final, which saw Kieran Reilly top the leaderboard and crowned Britain's first BMX freestyle park champion.
Afterwards, Reilly said:
"BMX is being seen as a sport now, it's not just an urban hobby anymore. We've got amazing organisations like British Cycling that have given us the platform that we need to show parents and kids that there's the space to go to the Olympics and the worlds on their BMX.
"British Cycling have been amazing in showing it's not just a hobby. We went through a phase where there was a bit of a gap in the next generation of riders and now, the future of BMX in Britain is looking really good. Kids are loving it and are so talented and it's all through word of mouth and British Cycling."
Another of the British elite men to qualify, Olympic bronze medallist Declan Brooks, said:
"The sport has grown massively since the Olympics when Charlotte got gold and I got bronze. Everyone knows what BMX freestyle is now and it's not just riding your bike on the streets anymore but big skateparks, with flips and spins and all the tricks.
"We have so many good kids coming through in the British Cycling development team now that everyone is getting pushed more and more to be better. That's just how the sport is evolving and it's great.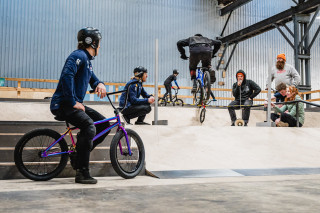 Chris Boardman, Sport England Chair and British Cycling Policy Adviser, said:
"I was absolutely blown away by Junction 4 Skatepark in Darwen on a recent visit to see the facility's expansion and National BMX Freestyle Series. It's not only a top-quality sports facility, it's a community asset which is doing wonderful work to engage local people of all ages in the Lancashire community and further afield.
"I'm really proud of British Cycling and Sport England's support for BMX freestyle, and the dividends which it is already clearly paying in just a few short years."
Harry Tucker-Harvey, Marketing Director of Adrenaline Alley skatepark, said:
"It has been fantastic to work so closely with British Cycling to develop BMX Freestyle clubs that will be incredible for the riders, supportive of the coaches, and operationally sound from a facilities perspective. The invaluable expertise gained through our partnership with British Cycling and other BMX freestyle facilities involved has been truly transformative, and we are eagerly anticipating the upcoming launch!