Platt Fields in Manchester played host to Rounds 3 and 4 of the 2023 National BMX Series, with Eddie Moore and Freia Challis both securing back-to-back wins over the weekend.
Round 3
In the men's Superclass category, it was Eddie Moore (Crucial BMX) who put on a dominant display, sweeping all four moto's and taking a very well-deserved win. Kyle Evans (C&K Contractors) pushed Moore right to the line to take second place, with Cal Strickland (Staystrong) taking yet another podium spot this season to finish third.
The women's Championship class saw Freia Challis (Absolute BMX) yet again in a class of her own with another clean sweep across all four moto's to secure the win, with the 15-year-old having already won the opening two rounds of the series. Betsy Bax (Staystrong) narrowly took second place just ahead of Elsa Rendall-Todd (DC Cycles) in third by one point due to racing in grand prix mode.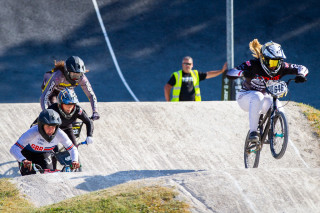 The junior men's category saw carnage in the first berm with five out of the eight riders going down, which left just Ben Fitzsimmons and Charlie Roy battling it out up front. However, Fitzsimmons would just about manage to hold off a late charge from Roy to win the race with Adam Gilbert (Thrill Factory UK) rounding of the podium in third place.
Superclass
Eddie Moore
Kyle Evans
Cal Strickland
Tyreese Bradshaw
Jay Bovill
Matthew Malone
Dean Reeves
Matthew Hutt
Championship Women (17+)
Freia Challis
Betsy Bax
Elsa Rendall-Todd
Sienna Harvey
Evie Webster
Morgan Haslam
Junior Men
Ben Fitzsimmons
Charlie Roy
Adam Gilbert
Harry Tanner
Harrison Collis
Ben Cornish
Taylor Hunt
Casey Markley
Round 4
The Superclass final on Sunday looked a straight race until the last berm, when Matt Hutt tried a move on Moore for the lead. Unfortunately, this didn't pay off and Hutt crashed out, taking out a couple of riders in the process, which left Strickland to pick up the pieces and finish second ahead of Matt Malone in third.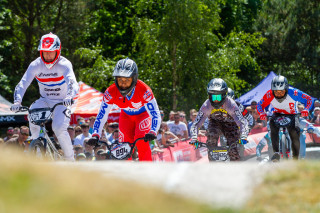 Moore said: "I felt a lot fitter going into this weekend which helped me win all the qualifying laps to get first gate pick for finals. That's important on a tighter track, and I knew if I could compose myself and produce an okay start, I could holeshot and be clear both days.
"On Saturday, I executed a smooth start and put together a fast lap to stay clear ahead and was super happy with my performance. On Sunday, I didn't have the best start, but wound it up down the first straight and protected my line. I'm happy with how I'm progressing on and looking forward to the races ahead."
Challis again dominated the women's Championship event, winning all four moto's on Sunday as well, setting her fastest lap time in her last moto. Rendall-Todd (DC Cycles) finished in a very impressive second place with Sienna Harvey (Crucial BMX) rounding of the podium in third place.
Challis said: "The weather didn't disappoint this weekend and I'm over the moon with my results, having time goals around the track and working on little details in races all checked off. Racing with friends makes the environment even better in the pens and off the track too.
"I'm really looking forward to a busy year with more Euro rounds to come and the European and World Championships drawing ever closer. I'm looking forward to what the rest of the year has in store."
The junior men's final on Sunday was fought out between Hunt and Tanner. Despite a very late surge from Tanner down the last straight, it was Hunt that held his nerve to win the race ahead of Tanner with Casey Markley (Concept Meybo UK) finishing third.
The series will resume in July when Gosport will play host to rounds five and six.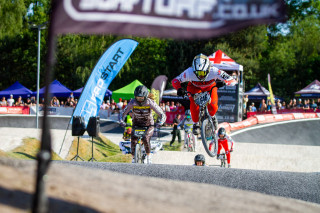 Superclass
Eddie Moore
Cal Strickland
Matthew Malone
George Hunt
Mark Fletcher
Jay Bovill
Tyreese Bradshaw
Championship Women (17+)
Freia Challis
Elsa Rendall-Todd
Sienna Harvey
Betsy Bax
Evie Webster
Morgan Haslam
Junior Men
Taylor Hunt
Harry Tanner
Casey Markley
Charlie Roy
Harrison Bell
Harrison Collis
Kurtis Sveikutis
Adam Gilbert