The 2020 HSBC UK | National BMX Series gets under way this weekend, with the traditional Manchester curtain-raiser again incorporating an international, C1 event, just over a month before the best in the world again grace the track for the UCI BMX Supercross World Cup.
The international line-up, which this year includes Switzerland's David Graf and the Netherlands' Judy Baauw, as well as a healthy contingent of British riders, will take centre stage on Saturday evening, but either side of that, rounds 1 and 2 of the national series will be contested.
Lining up in the superclass category are two of last year's overall top three, Eddie Moore and Calum Strickland, while the reigning champion, Bethany Shriever, starts her campaign in the championship women category.
The likes of Ellie Featherstone, Emily Hutt, Markella Houli and Eleana Stafford will provide tough competition for Shriever, who will be targeting victory ahead of an expected return to the venue for the world cup in April.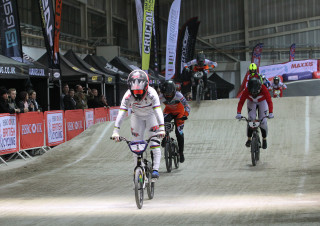 The junior men's category proved one of the closest fought of last season, and although 2019 overall top three Chad Hartwell, Matthew Hutt and Tyreese Bradshaw have all made the step up to superclass, the competition is again likely to be fierce.
Jay Bovill and Callum Russell completed the top five in that category last year, and will be looking to assert their authority with a strong start this time around.
After Manchester, the series will move on to Birmingham (April), Cumbernauld (May), Cyclopark (June), Gosport (July) and conclude in Telford (August).
Event dates, series standings and more information can be found on the 2020 HSBC UK | BMX National Series here.