British Cycling's Charlotte Worthington took to the podium once again today in Chengdu, China, becoming the first ever British woman to win a medal at the UCI BMX Freestyle Park World Championships, claiming bronze.
Worthington, who last weekend finished second at the world cup in the same location, performed a similar run today starting with a big 360 tuck no-hander over the step-up. From there, she took on a big back flip which ended with a brilliant line including a flair followed by a tail whip air to a 180 disaster. The American BMXer Hannah Roberts won the world title with the Chilean rider Macarena Perez Grasset in silver medal position.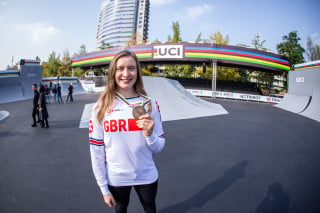 The result tops off what has been a fantastic season for Charlotte, who has also staked her claim as the inaugural National and European champion.
Speaking of her achievements, Worthington said: "I'm ecstatic with today's results, I've been waiting all year to put down some good riding in the world championships after getting a concussion last year and being unable to compete. I've still got more to work on but it's great to see so much hard work pay off."
In the men's event, Declan Brooks was the Great Britain Cycling Team's highest placed finisher in 10th place. Brooks performed a flawless first run with a front flip on the step up, followed by a 360-double bar to bar. From there, he did a flip over the spine and pulled off some big transfer lines but was unfortunate not to score higher than he did. Misfortune also struck Alex Coleborn who crashed at the end of his run and he finished in 12th overall.