Alex Coleborn and Charlotte had a dominant display this weekend (October 5-6), winning both the BMX Freestyle Park National Championships and British Open C1 contest over the two day event.
A star-studded field of the best BMX Freestyle talent in Britain assembled at Adrenaline Alley, Corby to compete in the first ever National Championships and British Open. The contest was held with standard UCI Freestyle Park rules, with each rider completing two, one-minute runs with the best run counting.
In the Men's National Championships competition, Great Britain Cycling Team riders Declan Brooks, Jack Clark, Alex Coleborn, James Jones and Ben Wallace all progressed safely through qualification with the highest scoring run posted by young talent, Keiran Reilly.
In the final it was Alex Coleborn who put down an incredibly technical and high difficulty run in his first attempt – securing 92.00, which in the end was unmatched by the other competitors. Declan Brooks was the closest competition scoring 91.00 with Keiran Reilly rounding out the podium.
In the Women's competition, Charlotte Worthington continued the stellar form that she's been exhibiting in contests around the world this year and dominated the women's competition from the outset.
In the final, Charlotte executed a faultless run securing a score of 92.00 which was too much for her nearest competition, Emma Finnegan 76.33 and Isobel Burrell 64.00. Alex and Charlotte received the first ever BMX Freestyle national champions' jerseys.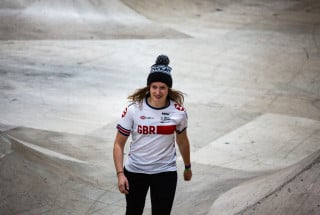 At the British Open C1 contest, October 6 it was a similar story to the National Championships with Alex Coleborn and Charlotte Worthington both producing the best runs of the day to once again top the podiums.
The Nationals weekend also consisted of a Youth Jam where local children to the skatepark attended a morning session with the Great Britain Cycling Team riders including coaching, games and a prize giving.