World Championships-bound Quillan Isidore and Ross Cullen earned confidence-boosting victories in Rounds Nine and Ten of the HSBC UK | National BMX Series.
Teen sensation Cullen and Isidore, 22, will represent Great Britain Cycling Team in Zolder, Belgium at the end of the month and shone in a Glasgow double-header.
With Olympic points at stake in a loaded field, the pair both gave their preparations for the Worlds and next week's European Championships a shot in the arm with their maiden victories of the 2019 season.
Moto magic
Tre Whyte took a big fall in the first moto – fortunately, he walked away unscathed but didn't race again for the rest of the weekend in Scotland.
Isidore was dominant in Saturday's action, winning all four motos and claiming the win from under the nose of newly-crowned national champion Paddy Sharrock.
Eddie Moore claimed third and junior national champion Cullen finished fourth.
Sunday's Round Ten belonged to Cullen, who stepped up and claimed the win as several riders chose to sit it out with the World Championships in mind.
Cullen was also victorious in all four motos and stepped up to claim the final glory with Moore in second and Tian Isidore third.
Ryan Martin, who was chasing down Cullen in the early stages of the final, came down hard and luckily walked away with only minor injuries.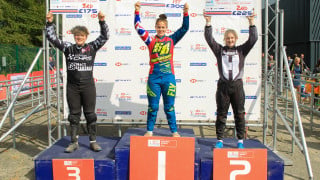 Meanwhile it was business as usual for Beth Shriever in the women's field as she claimed dominant victory in Round Nine.
Days after claiming yet another national title, the talented rider now selected for the Olympic program showed her prowess north of the border.
She took the win on Saturday ahead of junior national champion Eleana Stafford, with Markella Houli finishing third.
Up-and-coming talent Emily Hutt took a nasty tumble on her opening moto and sat the rest of the racing out.
Shriever also took a seat for Round Ten, as did Hutt, leaving Eleana Stafford to prevail on Sunday with 15-year-old Markella Houli in runner-up position.
There was plenty of drama in the junior men as Chad Hartwell's dramatic late overtake sunk Callum Russell and Matt Hutt to claim Round Nine spoils.
Round Ten saw Hutt assume early control of the race, taking the holeshot and holding pole to the line to grab the win.
Hardwell fought all the way but had to settle for second and Tyreese Bradshaw finished third.