Great Britain's Kye Whyte claimed his first-ever world cup title with a sensational performance in front of his home crowd at round 2 of the UCI BMX Supercross World Cup in Manchester today.
The 19-year-old European silver medallist – who made the semi-final in round 1 yesterday – looked strong all day, and delighted the Manchester crowd by winning a final which also included the likes of Niek Kimmann, current world champion Sylvain Andre and yesterday's winner, Joris Daudet.
Afterwards, Whyte said:
"This is the best day of my life, I reckon! I thought that – without being cocky – if I could get amongst the top three, with the track speed I've got, I thought I could win. I've made world cup finals before, but I've only ever finished last! It's been a great day."
Kimmann (Netherlands) claimed silver behind Whyte, while Colombia's Diego Arboleda Ospina completed the podium.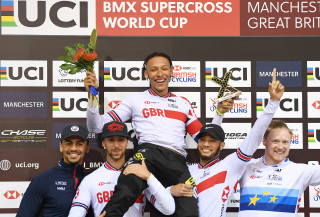 Elsewhere, Great Britain's Paddy Sharrock built on his final appearance yesterday by making today's semi-finals, while Kyle Evans and Tre Whyte bowed out at the quarter-final stage. Ryan Martin, Ross Cullen, Tian Isidore and Eddie Moore were all knocked out in the 1/16s round.
There was drama in the women's final, where American Alise Willoughby dominated from the start ramp to the final bend, where she lost control of her front wheel, conceding momentum and allowing France's Manon Valentino to burst through and claim victory – her first at a world cup since 2011.
Natalia Afremova (Russia) won silver and Ruby Huisman (Netherlands) bronze, with Willoughby eventually finishing in fourth.
There were more encouraging signs from young British rider Ellie Featherstone, who followed up her quarter-final yesterday by reaching the semi-finals today. A crash on the first bend ended hopes of a further progress, however afterwards, the 17-year-old – who was making her world cup debut - said:
"I got off to a good start and I decided to just give it everything, but it got a bit tight in the first corner, which caused the crash. But I'm over the moon with the semi-finals, especially following the quarter-finals yesterday – it's amazing.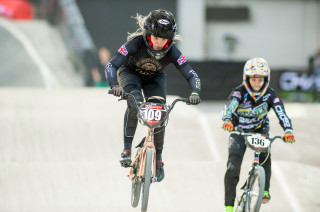 "I just wanted to enjoy the moment – it was a great opportunity and a great experience, and I'm really happy with how it's gone."
Great Britain's Beth Shriever made today's quarter-finals, while Imogen Hill and Eleana Stafford exited the competition in round 1,
Today's action concluded the two-day event, which yesterday saw Simone Christensen (Denmark) win the women's competition, and Daudet lead home a French 1-2-3 in the men's. Sharrock recorded his best-ever world cup finish as he took fifth.
The UCI BMX Supercross World Cup series now moves on to Papendal, the Netherlands, which will host rounds 3 and 4 over the weekend of May 11 and 12.