Great Britain's Paddy Sharrock recorded his best ever world cup result as the French claimed a 1-2-3 in the men's event at round 1 of the UCI BMX Supercross World Cup in Manchester today.
Sharrock looked strong throughout on his way to the latter stages, and was the only Briton to contest the final after team-mate Kye Whyte had got caught in a crash in the semi-final stage, leading to his elimination.
Sharrock was again in contention in the final, eventually finishing fifth behind French trio Joris Daudet, Jeremy Rencurel and Sylvain Andre, as well as Switzerland's David Graf, who claimed fourth.
Afterwards, 20-year-old Sharrock said:
"I don't know whether to cry or to cheer! It's been an absolute rollercoaster recently, so to come out and race so well…it couldn't really have gone any better for me today. I didn't really expect this myself, so to finally just come out and get a good result is unreal. I'm probably going to go away and cry!"
The women's event was won by Denmark's Simon Christensen, who ensured that Dutch duo Judy Baauw and Merle van Benthem had to settle for the minor medals. Mariana Pajon was fourth, however there was no place in the final for world champion Laura Smulders, who crashed out at the semi-final stage.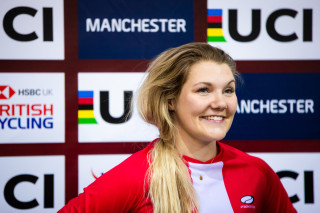 17-year-old Briton Ellie Featherstone underlined her potential by making it through to the 1/4s of her first world cup with some eye-catching performances.
She said:
"I'm really pleased; it's my first world cup and it's been a great experience. I'm really pleased with sixth in the quarter-final – I didn't expect that at all. I wasn't really under any pressure, or didn't have many expectations, but I'm so pleased."
European champion Kyle Evans was edged out in the 1/4s, and Eddie Moore, Tian Isidore, Ross Cullen, Tre Whyte and Quillan Isidore all bowed out at the 1/16s round of the men's competition. Beth Shriever was knocked out in the 1/8s stage of the women's event, while Great Britain's Ryan Martin and Imogen Hill had previously exited their respective competitions in round 1.
The action concludes with round 2 tomorrow, where the world's best riders will again battle for Tokyo 2020 qualifying points and further world cup titles at Manchester's HSBC UK National Cycling Centre.
Best of Social Media
Out at the quarter-final stage Ellie Featherstone put in a fantastic performance!

At just 17-years-old she was competing with some of the best women in the world at round one the @UCI_BMX_SX World Cup, Manchester!

Hear from her below#UCIBMXWC pic.twitter.com/5NEqevGtSG

— British Cycling (@BritishCycling) April 27, 2019
"It's been an absolute roller coaster recently..."

Hear from @paddysharrock post race as he reflects on an amazing round one in Manchester at the @UCI_BMX_SX World Cup!#UCIBMXWC pic.twitter.com/2OVT8oT2iN

— British Cycling (@BritishCycling) April 27, 2019
A huge crash for @kye969 in the first corner of his semi-final heat!

He won't progress to the final, but got back up and rode to the finish unhurt!#UCIBMXWC pic.twitter.com/96Fu1ET5cg

— British Cycling (@BritishCycling) April 27, 2019
#UCIBMXWC pic.twitter.com/bmCQ2sGPq8

— ian holmes (@ianholm23604349) April 27, 2019
#UCIBMXWC first visit and loving it pic.twitter.com/wv6Cc0CLZF

— Michelle Cutforth (@m_cutforth) April 27, 2019